Bothwell Employee Wellness Clinic medical team expands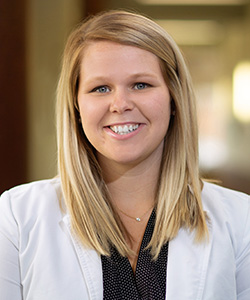 Emily Kusgen, DNP, FNP-BC, has joined Bothwell Employee Wellness Clinic, which assists Bothwell's business partner employees with pre-employment screenings and treats those who have disease or injury that has been caused or exacerbated by workplace factors.
More than 125 area businesses have agreements with Bothwell for their employees to receive work-related screenings and medical care. Kusgen will be doing pre-employment physicals and screenings and conducting workman's compensation evaluations for local employers. She will also see patients in the Bothwell Walk In Clinic when needed.
Kusgen grew up in Higginsville, Missouri, and said she has always been interested in helping people in a tangible way and was influenced by her mother to pursue a health care career.
"I have always been interested in rural medicine. My mom was a nurse, and I was able to watch her help numerous people throughout my childhood. She always found great joy in her work, and I admired that," she said. "I love to see my work make a positive difference in someone's life."
Kusgen received a bachelor's degree in Nursing from the University of Missouri-Columbia in 2015. She worked as a nurse at University of Missouri Health Care in the Medical Intensive Care Unit and served as the unit Charge Nurse for three years. In 2021, she earned a doctoral degree in Nursing Practice from the University of Missouri-Columbia. She is a Missouri-licensed Registered Nurse and a certified Family Nurse Practitioner.
Keith Morrow, Bothwell Clinic Operations vice president, said the addition of Kusgen to the employee wellness and walk-in clinic teams mean more people have access to care. She is joining Physician Assistant Mike Shipp to treat the growing number of employers who need work-related medical care for their employees.
"Emily's interest and familiarity with rural health care and her work ethic will make her a valuable member of the Bothwell team," Morrow said. "Her ICU experience taught her how to assess and help patients in high stress, high acuity situations, which will be beneficial in both the employee care and walk-in clinic environments."
Having grown up in a rural agricultural community, Kusgen knows the importance of quality health care close to home.
"I've lived in rural, agricultural communities all my life, and I knew I wanted to become a Nurse Practitioner because I enjoy building relationships with patients and playing an active role in their diagnoses and treatments," she said. "I'm excited to be a part of the Bothwell team. I completed many of my graduate education clinical rotations within the Bothwell system and enjoyed the tight-knit, team approach to patient care and their involvement in the community. I strive to be approachable, knowledgeable and compassionate and am excited to be serving patients close to home."
Bothwell Employee Wellness Clinic is located on the first floor of the Healing Arts Center at 3700 W. 10th St. in Sedalia. Employers who want to learn more about work-related medical care for their employees should call 660-827-9138.