Bothwell-University of Missouri Rural Family Medicine Residency
Program Overview
The Bothwell-University of Missouri Rural Family Medicine Residency trains service-oriented, evidence-based family medicine physicians to provide outstanding care and leadership for rural patients and their communities.

What is a Rural Training Track?
A rural training track (RTT) is a residency program located in a rural geographic area that is separately accredited and, because of its generally smaller size and variable resources, is substantially integrated with a larger, often more urban, residency program. To ensure sustainability, it's integrated in a substantive way utilizing shared resources, faculty, didactics, scholarly activity and more. The program's location allows for residents to maintain a focus on serving the rural community with unique training opportunities that prepare residents for a future rural practice serving rural patients and addressing their needs. Separate accreditation ensures rigor in meeting the standards of accreditation while also providing flexibility in meeting the unique small scale of these programs. Learn about The RTT Collaborative.
Program Accreditation
The program is accredited by the Accreditation Council for Graduate Medical Education (ACGME).
Residency Program in the News
Check out this video from MU Health Care focusing on the rural family medicine residency program, our first-year residents and program directors.
From Our Program Director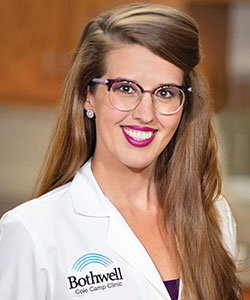 Welcome from the Bothwell-University of Missouri Rural Family Medicine Residency!
I am excited to continue our new Rural Training Track, accredited by ACGME in April 2021, with our partner the Department of Family and Community Medicine at the University of Missouri School of Medicine.
Family medicine has long been a foundation in the primary care-focused Sedalia community. Patients here prefer to have their care locally delivered, when possible, by physicians who are thoughtful, caring and truly interested in them as individuals and not just diagnoses.
Our health center's administration, medical staff and community have seen the benefits of engaging in education. That investment and commitment and Dr. Bob Frederickson's vision and perseverance, paired with our invaluable partnership with the Department of Family and Community Medicine at the university, have set the perfect stage for our residency success!
The first year of residency training will be completed with our partners at the University of Missouri Health Care in Columbia, Missouri, along with weekly continuity clinics at Bothwell Family Medicine Associates in Sedalia. The second and third years will be primarily at Bothwell Regional Health Center in Sedalia with opportunities for electives.
Our program is fortunate to have a faculty of committed family medicine physicians, pulmonologists, surgeons, pediatricians, orthopedists, obstetrician gynecologists and cardiologists. Self-motivated candidates will thrive in our program as it allows flexibility, creativity and unique hands-on experiences through both hospital and office-based practice. Opportunities for operative obstetrical training will be emphasized and encouraged during the residency while office surgical training, dermatologic and endoscopic procedures are available. Residents will also be integral in a robust geriatric continuity care experience at local nursing homes.
Even though I am early in my career, I realize how fortunate I was to have been recruited, welcomed and continually mentored by physicians who have been living and working in this community for decades. My veteran colleagues are rural family medicine physicians in the purest sense of the sentiment and have unparalleled expertise in navigating the difficulties of rural medicine, and they have reaped the rewards of a career in small town America.
While Sedalia isn't my hometown, it is my husband's, Dr. Matthew Roehrs. Together we have helped not only increase access to care but also grow the residency and medical staff. Our mix of veteran and freshly minted faculty are steadfast in their passion for rural medicine and excited to help train the next generation of physicians to carry on the legacy of full scope family medicine in our community.
Sincerely,
Misty Todd, MD
Program Director
residency@brhc.org
Profile
Community Advantages in Central Missouri
Sedalia combines all the elements of a thriving regional marketplace of 65,000+ people with the benefits of living in a small city. Conveniently located within an hour of Kansas City, Columbia and Lake of the Ozarks, life in Sedalia offers the amenities of a metro community without all the traffic, noise and congestion.
Find your optimal work/life balance in our family-friendly community! With a low cost of living, beautiful neighborhoods and a community where you can enjoy the best of both worlds, Sedalia is a great place to live and work!