Bothwell names Chief Nursing Officer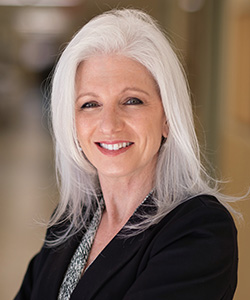 Bothwell Regional Health Center has named veteran nursing leader Michele Laas, RN, BSN, Chief Nursing Officer. In this role, Laas will be responsible for the leadership, direction, operational support and administrative supervision of all inpatient nursing units, Emergency Department and perioperative services. She also will be responsible for the clinical education and development of almost 250 nurses in the hospital.
Laas currently serves as Bothwell's Director of Clinic Nursing and has more than 25 years of nursing and leadership experience. She is a 1994 graduate of State Fair Community College's Associate Degree Nursing program and began her career at Bothwell in 1995 as an RN in the Emergency Department (ED). She then served as the ED Charge Nurse/Education Coordinator and later as Infection Control Coordinator and Patient Care Coordinator.
From 2006 to 2017, Laas worked for University of Missouri Hospital and Clinics in Columbia as a Flight Nurse, Medical Base Supervisor and Chief Flight Nurse. While at MU Health Care, Laas continued to work as an RN in Bothwell's ED. In 2016, she returned to Bothwell Regional Health Center full-time as Clinical Educator, Director of Critical Care, Progressive Care and Central Telemetry and Director of Acute Care Services. From August 2019 to February 2020, Laas also served as interim Chief Nursing Officer.
Lori Wightman, Bothwell CEO, said Laas's experience and affinity for teaching make her well-suited for the top nurse leader position.
"The CNO is an incredibly vital role at Bothwell," she said. "Many of our employees are nurses who are directly responsible for patient care. Michele has a demonstrated history of building relationships, driving positive clinical outcomes and elevating the role of nursing. She is a nurse's nurse and believes strongly in quality, processes and lifelong education."
After earning an associate degree in Nursing from SFCC, Laas earned a bachelor's degree in Nursing from Central Methodist University and is working toward a master's degree in Nursing from Western Governors University. Her interests include instructing critical care classes using simulation activities and teaching on any topic concerning acute or critically ill patients. As Director of Clinic Nursing, Laas developed a clinic nursing orientation process and an annual skills lab for clinic nursing personnel.
"I am thrilled to take on this new role at Bothwell," Laas said. "Health care and nursing are my passions, and I look forward to ensuring that our nurses have a voice as well as the support and resources they need to not only be exemplary caregivers but to thrive and be leaders in their own right within the organization."
When Laas begins her new position on March 28, she will be a member of the Senior Leadership Team as well as participate with the Board of Trustees and medical staff in decision-making structures and processes.
"Michele's natural strengths are driving change and challenging the status quo. She's a creative problem solver and persistently works to obtain goals even when challenges occur," Wightman said. " Michele is exactly the person we need, and I'm excited to welcome her on a permanent basis to the Senior Leadership Team."