Bothwell Regional Health Center Auxiliary
awards two health care scholarships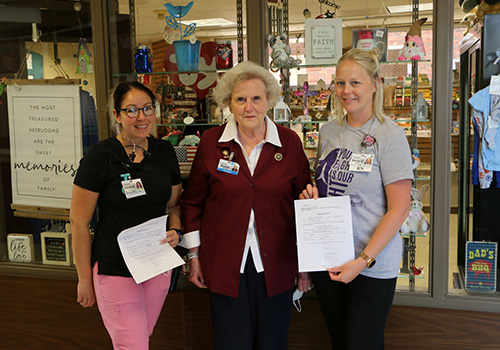 Two $2,500 scholarships were recently awarded to area health care students by the Bothwell Regional Health Center (BRHC) Auxiliary. Scholarships were given to Stacey O'Donnell and Lucinda Manolias, both of Sedalia.
O'Donnell graduated from Cole Camp High School and earned a Nursing degree at State Fair Community College. She has worked at Bothwell Regional Health Center for 15 years and for the last eight as a Registered Nurse in Bothwell's Susan O'Brien Fischer Cancer Center. O'Donnell is pursuing a bachelor's degree in Nursing at Central Methodist University and plans to earn a master's degree in Nursing and become a Nurse Practitioner.
Karen Suroff, BRHC Auxiliary Scholarship Committee chairwoman, said O'Donnell's references described her as someone who is passionate about helping others and her career.
"Stacey was described as a professional 'through and through' and often catches underlying symptoms of her patients," Suroff said. "She is also known to advocate for her patients by speaking up to clinicians when needed."
Lucinda Manolias graduated from Whittier High School and is a Certified Nurse Aide at Bothwell. She is enrolled in the Nursing program at State Fair Community College.
"Lucinda started college as a business major, but a family member became ill and died unexpectedly," Suroff said. "That experience changed her education direction to nursing. She wants to learn what happened and has the desire to help people. Her references described her as responsible, an excellent teammate who goes the extra mile and someone who is able to find ways to make the best of any situation."
The Auxiliary Scholarship Committee includes Suroff, Sue Heckart and Carolyn Sperry. Suroff said the committee was pleased with the caliber of this year's applications and is proud of this year's winners.
"We are very supportive of Stacey and Lucinda," she said. "We wish each of them the best of luck on their educational journeys and hope they will continue to serve Bothwell and our community in the future."
The BRHC Auxiliary operates the Gift Shop located on the hospital's ground floor. Sales and other fund-raising projects help fund scholarships and medical projects that support Bothwell Regional Health Center. Gift Shop hours at 9 am to 6 pm Monday through Friday; 10 am to 2 pm Saturday; and 1 to 5 pm Sunday. For more information or to donate to the auxiliary, contact Suroff at 660-827-0445.