Bothwell Regional Health Center expands medical team at Warsaw clinic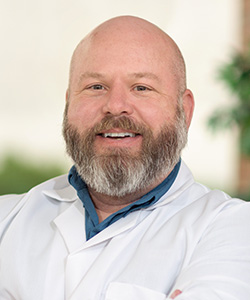 Jaime Reed, PA-C, has joined the Bothwell Health Center-Truman Lake team in Warsaw.
Reed recently retired from the U.S. Air Force after serving nearly 25 years. He received a bachelor's degree in Pre-Medicine in 2008 and a master's degree in Physician Assistant Studies in 2009 at the University of Nebraska Medical Center in Omaha through the Department of Defense.
Physician assistants (PAs) are mid-level clinicians who provide patient care under the guidance and supervision of a collaborating physician. They can evaluate and treat illnesses, order and interpret labs and tests, prescribe medications, perform procedures, assist in surgeries and make rounds in hospitals.
Since 2009, Reed has worked for the Air Force as a Physician Assistant and managed operations in family medicine and flight and occupational medicine including Primary Care Director at Keesler Air Force Base in Mississippi, Presidential Support PA at Joint Base Andrews in Maryland, as Regional Disaster Medical Health Specialist in Africa, as Aerospace and Occupational Medicine PA at Joint Base Andrews, and stints as director of multiple clinics at Whiteman Air Force Base (WAFB) in Knob Noster.
Reed became Occupational and Primary Care Clinic Manager at WAFB in 2019. In that role he managed seven clinical staff, five medical assistants, one nurse and one physician who together supported 12,000 patients. He is originally from Basile, Louisiana, and said he became interested in health care while serving in the military.
"I wanted to help people, and I felt that I should use my talents to serve in health care," Reed said. "In my new role at the Truman Lake clinic, I will be a primary care clinician helping families with their medical issues and offering occupational medical services such as DOT physicals."
Reed will work with Dr. Sarah Hasek and Nurse Practitioners Chelsea Casteel and Joan Kelley to provide medical care to babies, children, teens, adults and seniors in Warsaw and surrounding communities.
Keith Morrow, Bothwell Clinic Operations vice president, said Bothwell has been wanting to add to the medical team in Warsaw and Reed's extensive medical experience will mean more people have access to care.
"In addition to his clinical skills and experience, Jaime has hands-on experience developing and implementing continuous quality initiatives with patient safety as the foremost goal," Morrow said. "He will be a valuable addition to the medical staff at the Warsaw clinic."
Having seen and treated thousands of patients over his career, Reed said he wants people to know he cares about their medical wellbeing and will work with patients to find answers.
"I can relate to patients struggling with health issues," he said. "I like to work with them as a team in order to help them reach their health and wellness goals."
Bothwell Health Center-Truman Lake is located at 1765 Commercial Street in Warsaw. Hours are 7 am to 6 pm Monday through Friday. In addition to primary care, cancer, obstetric, oncology, orthopedic, sleep medicine and women's health specialists are also available to see patients. On-site screening services include 3D mammograms, X-rays and bone density screenings. To learn more or to make an appointment to see Reed or another clinician, call 660-438-6800. Walk-ins are welcome.