Bothwell Regional Health Center returns borrowed subzero freezer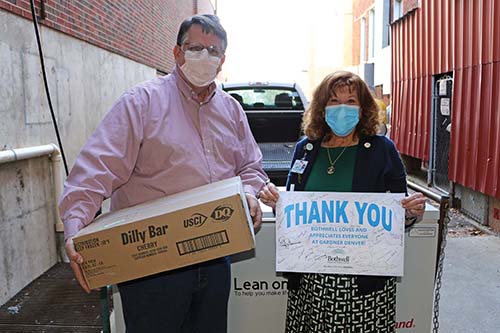 Gardner Denver Sedalia employees were gifted last week with a sweet thank you.
Bothwell Regional Health Center returned a subzero freezer borrowed from the plant filled with over 260 Dairy Queen Dilly Bars for its employees in appreciation for using the freezer for nearly a year.
In December 2020 plant leaders loaned the freezer to Bothwell, and it was used to hold Covid-19 vaccines, which need to be stored at extreme temperatures.
Bothwell recently received a new Stirling Ultracold freezer from Katy Trail Community Health, which meant Gardner Denver could have its freezer back. The freezer is used at the Sedalia plant to keep parts for the compressor assembly extremely cold to meet high-tolerance fit requirements.
"We are extremely grateful to Gardner Denver for loaning us this freezer for the last year," said Lori Wightman, Bothwell CEO. "We had it for many months, returned it and then needed it again as we continued to vaccinate the community. Their generosity meant we could administer vaccines quickly without waiting to purchase our own freezer. Returning it with a few tasty treats was the least we could do to let their employees know how much we appreciated it."
From left in the photo above, David Wolf, senior safety and quality leader for Industrial Technologies & Services (ITS) Americas at Ingersoll Rand, Gardner Denver's parent company, holds a box of Dairy Queen Dilly Bars, and Lori Wightman, Bothwell CEO, holds a thank you note signed by Bothwell employees. The frozen treats were inside a subzero freezer that Bothwell returned to Gardner Denver after using it to store Covid-19 vaccines for nearly a year.