Brain and spinal cord specialist joins Bothwell team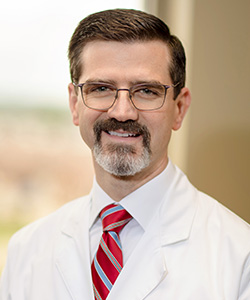 On Aug. 1, Jonathan Beary, DO, became Bothwell Regional Health Center's first full-time neurologist who can diagnose, treat and manage disorders of the brain and nervous system.
Beary is a board-certified, fellowship-trained adult neurologist and treats complex general neurology, including muscle, neuromuscular junction, peripheral nerve, nerve root and spinal cord conditions along with brain disease. He has experience treating headache disorders, strokes and seizures, as well as multiple sclerosis and Parkinson's disease.
A St. Louis native, Beary attended medical school at A. T. Still University in Kirksville, Missouri, and in 2013 completed his internal medicine and neurology residency at The Cleveland Clinic in Cleveland, Ohio.
In 2014, he completed a fellowship in electromyography and neuromuscular disorders and received additional certification in clinical neurophysiology/epilepsy from The Cleveland Clinic. After completing his training, Beary returned to Kirksville where he had a solo neurology practice affiliated with the university for the last eight years.
While practicing medicine in Kirksville, Beary also was an associate professor of Neurology and chair of Neurobehavioral Sciences at A. T. Still University. He has authored several peer-reviewed scientific publications and is a long-standing member of the American Academy of Neurology.
Beary said he became interested in neurology while in his second year of medical school.
"The brain is just amazing," he said. "There is so much that we still don't know about the mind and brain interface. I knew I would never be bored as a neurologist, and I never am. It is thrilling to see developments in treatments, and I have never regretted choosing this specialty."
Keith Morrow, Bothwell's Clinic Operations vice president, said having a neurologist in Sedalia is critical to providing local access to specialty care in an area that is only growing in need.
"Having Dr. Beary in Sedalia means patients will receive care from a highly trained neurologist who can provide the testing and imaging services locally and not have to travel regularly to Columbia or Kansas City for treatment," he said. "There's currently a shortage of neurologists in the country. We feel extremely lucky to have recruited Dr. Beary here where we know he will be very busy treating patients in his clinic."
Beary agreed and cited several important health care needs including the increasing incidence of dementia and the prevalence of strokes.
"Stroke is the number one cause of long-term preventable disability in our country," he said. "Numbness, tingling and weakness are very common symptoms that can be caused by many conditions and situations; some of these are benign (like hitting your 'funny bone'), but some are serious and need to be diagnosed soon in order to prevent progression."
With influences from his grandfather, Beary described his clinical philosophy as "modern yet grounded in old-fashioned patient care."
"My grandfather practiced medicine from 1944 to 1984 so this is rooted in me," he said. "He was a dignified man who treated his patients with respect and was respected by them in return. Today we have many advancements in technology, but nothing is still so vital as taking a detailed history and performing a thorough examination. I find that many patients have never really been given the opportunity to tell their story, and I aim to listen to them."
Beary is married and has three children. He and wife enjoy gardening and landscaping, and he enjoys reading, running and Bible study. Beary said he is thrilled about the opportunity to practice in Sedalia and become a part of the community.
"I have visited Sedalia a few times over the last several years," he said. "It is a beautiful town with a great sense of self-identity. I am excited to live here, and I know it will be a safe and fun place to raise my children."
Dr. Beary will temporarily see patients in Bothwell Ear, Nose and Throat on the third floor of the Bothwell Healing Arts Center until a new clinic location is identified. Some appointments require a referral from a primary care practitioner; however, patients with headache issues may call the clinic directly at 660.827.7925 or 660.829.8888 for an appointment.