Deciding on Cancer Care Together
Dr. Lara Briseño Kenny expands role at Bothwell Cancer Center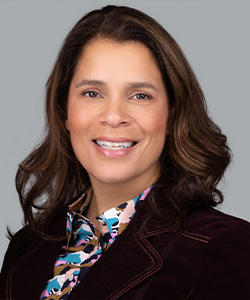 Beginning this month, Dr. Lara Briseño Kenney is taking on a larger role at Bothwell Susan O'Brien Fischer Cancer Center. She is board-certified in Hematology, Oncology, Internal Medicine and Palliative Care.
Bothwell interim Vice President of Clinic Operations Michele Laas, RN, MSN, said Dr. Kenney has a long-standing relationship with the Cancer Center.
"Dr. Kenney has been a part of the medical staff for several years providing assistance as needed to care for patients in the hospital and the Cancer Center," she said.
Dr. Kenney will work alongside Dee Dee Gilmore, the center's family nurse practitioner, to ensure patients have no lapse in care while Bothwell searches for Dr. Matt Triplett's permanent replacement. Triplett is relocating to his hometown of Springfield, Missouri, at the end of August.
"While we are sad to see Dr. Triplett leave, we are enormously excited Dr. Kenney will be with us as we make this transition," Laas said. "It's so important that our patients have no lapse in care and can continue to receive their treatments close to home."
Dr. Kenney specializes in oncology and hematology and has over a decade of experience as a cancer physician in a variety of health care facilities. She is originally from the West Coast and was drawn to the area by the six-year program offered at the University of Missouri-Kansas City School of Medicine. The program allowed her to complete her medical degree in six years, rather than spending four years working toward an undergraduate degree and then four years in medical school.
"The only thing I ever wanted to be when I grew up was a physician, so starting directly after high school was a perfect option for me and was worth leaving my home to move to Kansas City," Dr. Kenney said. "It proved to be the right decision because I had six full years of priceless, world-class clinical experience there."
From 2004 to 2011, Dr. Kenney was active duty in the U.S. Army and held numerous roles including Staff Physician, Chief Medical Officer and Officer in Charge. As the medical officer with the 89th Military Police Brigade, she oversaw the interface with the Iraq Ministry of Health and was tasked with the design and implementation of an effective strategy for transitioning the health care of two fully operational detention camps to the Iraqi government. She received a Bronze Star for her successful operation, which was to ensure proper training, procedures, documentation and supplies were in place and operational prior to the withdrawal of American forces.
"I completed my clinical training years after medical school in the largest military hospital in the country and during a time of war," Dr. Kenney said. "Our training was demanding, exhausting and very thorough with uncompromising expectations. I loved every minute of it and felt fortunate to be there. My time in the Army solidified my sense of duty and service and allowed me to practice medicine in the most challenging of conditions and always with integrity."
In medical school, Dr. Kenney chose Oncology and Hematology as an elective and immediately knew it was the perfect fit for her. Her extensive specialty training as a community oncologist and hematologist throughout the Midwest has given her the experience to diagnose and treat many different cancer types and blood conditions, always with the utmost care and compassion for her patients.
"I speak to my patients plainly and honestly, taking the time to make sure they understand their diagnosis, the how and why, and the options they have for their medical care," she said. "I bring medical knowledge to the relationship, but they bring their history, the goals and dreams for their future, and the values that they live by. Together, we decide how the medical care best fits into their journey and what choices seem best for their situation."
When she is not practicing medicine, Dr. Kenney said she enjoys small town, farm life in Clinton with her family and three horses.
"My husband and I have three young sons who are full of fun and mischief," she said. "We are blessed to be close to my husband's family, and our days are busy with ball practices, family dinners, and farm and horse time."
In addition to caring for patients at Bothwell, Dr. Kenney owns her own direct care, private practice in Leeton where she provides internal medicine primary care and hematology and oncology care to the region.
"I love being a physician," she said. "It is exactly what I was made for in this world and has always been a perfect fit for me. I take care of each and every patient as if they were my own family because everyone deserves that level of care."