Dr. Evan Stout, Orthopedic Surgeon, Achieves Board Certification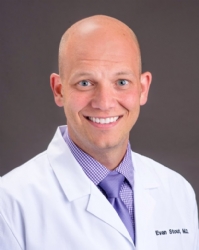 Dr. Evan Stout, a physician at Bothwell Orthopedics & Sports Medicine, has achieved board certification from the American Board of Orthopaedic Surgery (ABOS).
ABOS is an independent, voluntary, nonprofit organization that reviews an orthopedic surgeon's educational background and training. The organization tests a doctor's core knowledge base, does a thorough review of their cases and overall practice, and ensures that they are meeting high and rigorous benchmarks for serving patients.
"Dr. Stout has been a tremendous addition to our orthopedics team in Sedalia," said Lori Wightman, Bothwell CEO. "He's a rock star physician who has earned kudos from both his peers and patients. We're extremely proud of his hard work to achieve ABOS certification, which demonstrates his attainment of high standards for education, knowledge, experience, and skills."
Stout received his medical degree from the University of Texas Medical Branch in Galveston, Texas. He completed a residency in orthopedic surgery at John Peter Smith Hospital in Fort Worth, Texas.
Following residency, he completed an orthopedic sports medicine fellowship at the Orthpaedic and Sports Medicine Clinic in Kansas City.
Stout joined Dr. Douglas Kiburz and Dr. Ryan Kelly Edwards at Bothwell Orthopedics & Sports Medicine in August 2017. The clinic provides comprehensive orthopedic care and treats conditions involving the hips, knees, arms and elbows, feet, ankles, hands, wrists, shoulders and lower back. The clinic also specializes in joint replacement, trauma and sports medicine, including arthroscopy.
"Dr. Stout has advanced training in sports medicine, and he treats adults, adolescents and pediatric patients for a variety of sports injuries," said Keith Morrow, Bothwell's Clinic Operations vice president. "With fall sports starting, he is accepting new patients and can help student athletes stay healthy and reach their full potential."
For more information about Dr. Stout and sports medicine, contact Bothwell Orthopedics & Sports Medicine at (660) 826-5890.