Dr. Meredith Norfleet Joins Bothwell Family Medicine Associates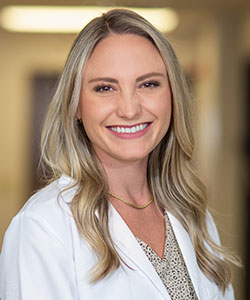 Returning home to her family and community roots, Dr. Meredith Norfleet will join Bothwell Family Medicine Associates as a new physician Sept. 1.
Growing up in Houstonia, Missouri, and following in her parents' examples, Dr. Norfleet knew she wanted to be involved in her community and help her neighbors. Exploring different career options in high school, she reached out to her family's primary care physician, Dr. Robert Frederickson, to job shadow and learn more about the medical field. She had the opportunity to observe Dr. Frederickson's evidence-based practices and how invested he is in the community, inspiring her interest in medicine.
"Dr. Frederickson has played an important role as my inspiration to become a doctor and as my mentor," she said. "Growing up, my grandparents needed a lot of health care and that also instilled in me the importance of having good, local medical care."
Dr. Norfleet is a 2010 graduate of Northwest High School in rural Pettis County and received her bachelor's degree at the University of Missouri-Columbia in Biological Sciences with a minor in Nutrition. She earned her medical degree at University of Missouri School of Medicine.
During medical school, Dr. Norfleet found her passion of caring for many types of patients and taking care of people of all ages and the community. She didn't want to leave out any patient population and decided family medicine tied it all together. To gain experience treating patients in an urban setting, she completed three years of residency at John Peter Smith Hospital in Fort Worth, Texas, a large county hospital. However, the need for more rural family health care drew her back to her roots.
"Dr. Frederickson and I met for coffee where we talked about me returning home to work in Sedalia," she said. "At the end of the day, I missed the sense of community in a smaller area, and I missed my family. I realized that I loved these patients and this community, and I wanted to come home to practice."
While providing care for people of all ages from babies to women with reproductive health issues to the elderly, as well as patients who are in the hospital, Dr. Norfleet will also serve as a faculty member teaching and mentoring resident physicians in the new Bothwell-University of Missouri Rural Family Medicine Residency program led by Dr. Frederickson and Dr. Misty Todd.
Keith Morrow, Bothwell's Clinic Operations vice president, said Dr. Norfleet will be a great addition to Bothwell's family clinics' group of physicians.
"Because she grew up in the area, she understands the health care needs of the people she will care for," he said. "She's highly motivated and eager to start making a difference in the community. We're delighted she chose to come back to the area."
Dr. Norfleet lives in Sedalia with her mini Sheepadoodle, Sammy. She spends as much time with family as possible and likes to travel across the country visiting friends she made during medical school. She also enjoys baking, cooking, trying new recipes and sharing them with her neighbors.
Dr. Norfleet will see patients at Bothwell Family Medicine Associates at 3401 W. 10th Street in Sedalia. The phone number is 660.827.2883, and office hours are 8:30 am to 5 pm Monday through Friday.