Expanding urological services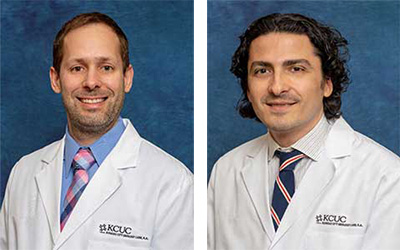 October was the start of a new partnership between Bothwell Regional Health Center and Kansas City Urology Care (KCUC). This partnership allows Bothwell to offer additional urological services provided by KCUC physicians in the hospital and clinic that will mean faster care for area patients.
Dr. Philip Fracica, Bothwell's chief medical officer, said there is a significant shortage of urology specialists and a much greater demand than supply.
"In recent years there were relatively few residency training spots available for urology, which has limited the number of available urologists," he said. "Today, a significant number of experienced practicing urologists are at or near retirement age and so the national urology workforce is shrinking as demand is increasing. This trend is expected to continue for another decade."
Fracica said even large urban urology practices like KCUC are experiencing challenges with recruiting new physicians so small medical practices or groups face an exceptional challenge.
"KCUC reached out to us to inquire about our interest in obtaining urology services from them," he said. "As we learned more about their group, it became clear it was a good option for us. They provide this type of service at multiple community hospitals in eastern Kansas and western Missouri, so their track record is good."
The two KCUC physicians who have joined Bothwell's medical team are Dr. Jason Anast and Dr. Mirian Boci. Both doctors have been with the organization since 2016.
Dr. Anast is a board-certified urologist with clinical fellowship training in robotics and laparoscopic procedures. He is a member of the American Urological Association and the Endourological Society and has served in several professional leadership positions over the course of his career.
Anast received his medical degree from Washington University School of Medicine in St. Louis and completed his general surgery and urologic surgery residencies at Barnes-Jewish Hospital / Washington University. He completed a robotics fellowship with Urology Associates of North Texas and was a National Institutes of Health (NIH) urology research fellow at the University of California, San Francisco.
Dr. Boci is board certified and licensed to practice in Kansas and Missouri. He received his medical degree from the University of Oklahoma College of Medicine in Oklahoma City, completed his General Surgery internship at Vanderbilt University Medical Center and is a 2013 graduate of Urological Surgery Program at Louisiana State University.
Both urologists will alternate weeks at Bothwell on Tuesdays and Wednesdays and provide a full range of simple to moderate complexity urology procedures including cystoscopies, kidney stone removal, treatment of urinary retention and incontinence, prostate disease and evaluation and treatment of urinary tract bleeding.
"I expect most of their Tuesdays will be spent in the operating room performing surgical procedures and Wednesday tasks may include office visits, procedures in the Infusion and Procedure Center, as well as post-operative follow-up consultations," Fracica said "Complex and highly specialized procedures will be done at other facilities."
Dr. Fracica and the Bothwell leadership team recognize and appreciate the hard work and time commitment Dr. Steve Foster and Nurse Practitioner Dena Jenkins have given during the shortage of urologists.
"Our community has been greatly blessed by the years of dedicated service Dr. Foster has provided," Fracica said. "We expect his clinical activities will continue to decrease and the new urology resources will allow him to work toward retirement. Urology Nurse Practitioner Dena Jenkins has been an exceptional asset to the department. She will continue to provide services and work closely with Dr. Anast and Dr. Boci, as well as continue her work with Dr. Foster."
To learn more or make an appointment, call Bothwell Urology Services at 660.826.1482.