Fifth annual Wear for Women event Feb. 23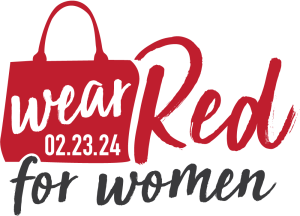 A record 430 women from Sedalia and surrounding communities donned their best red outfits and gathered at Foundry 324 in downtown Sedalia last February to support the Bothwell Foundation's annual Wear Red for Women luncheon and auction. The annual event raises funds to place life-saving automated external defibrillators (AEDs) in places where people work, learn, play or pray in Sedalia and Pettis County.
Since the event's inception in 2020, 72 AEDs have been placed or committed to organizations, event centers, churches and businesses where people gather in large numbers. The presence of an AED has been shown to increase survival from cardiac arrest when bystanders used the device rather than wait until emergency responders arrive.
The foundation's Wear Red for Women committee, co-chaired by Lori Wightman, Bothwell Regional Health Center CEO and Dianne Simon, Thompson Hills Investment Corporation vice president, will host the 2024 event on Feb. 23 at Foundry 324. There will be a heart-healthy lunch, auction and guest speaker Jen Loganbill with Jen's Get Fit Group will talk about how fitness and exercise helps with overall heart health.
People or businesses interested in supporting the fifth annual Wear Red for Women event should contact Lauren Thiel-Payne, Bothwell Foundation executive director at 660.829.7786 or lthiel@brhc.org. Tickets will be on sale in January. To learn more, visit brhc.org/wear-red.