Fredrickson receives coveted DAISY Award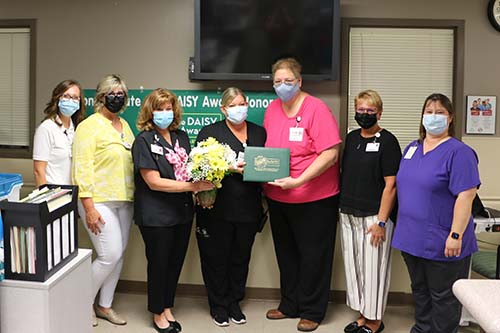 Sarah Fredrickson's genuine compassion for patients and her ability to make others feel at ease during times of worry or stress has earned her the DAISY Award.
Fredrickson, a registered nurse in Bothwell Regional Health Center's Emergency Department is the latest recipient of the hospital's DAISY Award, which is given periodically to a deserving nurse who demonstrates compassionate patient- and family-centered care.
Fredrickson was nominated for the award by a family member of a patient who said she provided excellent communication while genuinely caring and showing love and compassion.
"She was wonderful, from the smile she had on her face to the way she took care of my dad," the family member said. "She let us know everything that was going on with his vitals and any test they were about to do. She was also very patient with my dad."
Fredrickson has a true passion for health care and caring for others.
"I love my job because I get to help heal, whether it be the body, mind or even the soul," Fredrickson said. "When you're a nurse you know that every day you get to touch a life or a life will touch yours and that's the beauty in this profession, which I'm proud to be a part of. The DAISY Award is one of the greatest achievements to receive in nursing because it is a nomination by the people who we truly work for — patients and their families."
The nominator said she most appreciated how genuine Fredrickson was through the whole experience.
"There are not a lot of people in this world like her," the family member said. "Sarah is truly a blessing, and you can tell she cares for each person who comes in the Emergency Department. The smile she wears matches the love and compassion she holds in her eyes."
Laura Weisenburger, Bothwell Nursing educator and recruiter presented Fredrickson with a certificate commending her for being an "Extraordinary Nurse." She also received a DAISY Award pin and was treated to a box of cinnamon rolls. A DAISY Award banner recognizing her will hang in the Emergency Department and Fredrickson's name will appear on the DAISY Foundation website.
"I am so honored to present Sarah with this award," Weisenburger said. "Three years ago, I was in a head-on car accident and her voice was the first sense of comfort and familiarity when I was brought in by ambulance to the Emergency Department. She took excellent care of me then and continues to provide excellent care to all patients."
The DAISY Award for Extraordinary Nurses was started in 1999 in Glen Ellen, California, by members of the family of Patrick Barnes, who died at the age of 33 of complications from an autoimmune disease. The care his nurses provided was the inspiration for the DAISY (Diseases Attacking the Immune SYstem) Award.
An international award, the DAISY is awarded in more than 2,800 health care facilities in all 50 states and 17 countries.
Bothwell Regional Health Center began recognizing its nurses with the DAISY Award in 2018. Jessica Wheeler, Shari Thomasson, Shasta Nardi, Courtney Rumans, Sarah Plante, Connie Roll and Ronda McMullin are previous recipients.