Gardner Denver Sedalia loans Bothwell subzero freezer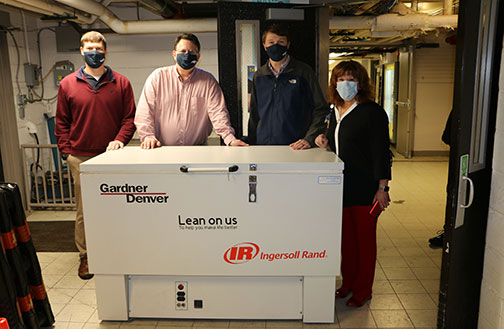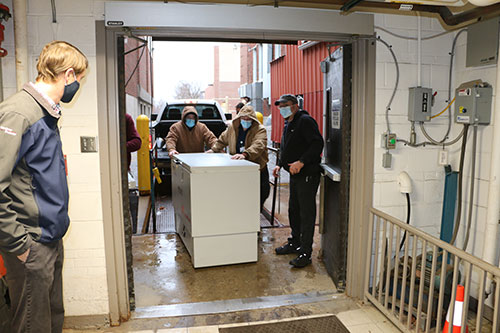 Gardner Denver Sedalia recently loaned a subzero freezer to Bothwell Regional Health Center that will be used to store COVID-19 vaccines.
Gardner Denver is a global manufacturer of compressors, pumps, blowers, and other engineered solutions for various industrial applications. The subzero freezer, which keeps materials cold at -121 Fahrenheit (-85 Celsius) is used at the Sedalia plant to keep parts for the compressor assembly extremely cold to meet high-tolerance fit requirements.
David Wolf, senior safety and quality leader for Industrial Technologies & Services (ITS) Americas at Ingersoll Rand, Gardner Denver's parent company, said the opportunity to loan the freezer to Bothwell came about through a chance meeting between an employee and his physician.
"One of our employees is a patient of Dr. Jeffrey Sharp at Bothwell Family Medicine Associates," Wolf said. "In their conversation, Dr. Sharp mentioned that one of the vaccines needs to be stored at extreme temperatures, and our employee told him that Gardner Denver had a freezer that might work. Dr. Sharp knows me through our service on the Sedalia 200 school board, so he reached out to me. We then contacted the hospital to start a discussion."
Bothwell CEO Lori Wightman said she and hospital staff are extremely grateful to the Gardner Denver Sedalia team for providing this valuable resource to the hospital at no charge, which will ensure that Bothwell can administer COVID-19 vaccines in a timely way.
"As you can imagine every hospital and health center in the country and world is going to need a subzero freezer to store the newly approved Pfizer/BioNTech vaccine, and they're expensive," Wightman said. "It was such a relief to learn that not only would we be able to get a freezer faster than planned but also that it would be at no cost."
Ingersoll Rand's purpose statement is, "Lean on us to help you make life better." Paul Dick, North American operations lead for ITS Americas at Ingersoll Rand, said this partnership with the hospital is a great example of that statement.
"We want our customers, employees and our communities to lean on us," Dick said. "We are excited to do everything we can to help our hospital and health care workers deploy the COVID-19 vaccine and defeat the virus."
Wightman said the freezer will be installed on the second floor of the Canon Center for Cancer and Cardiovascular Care and Bothwell expects to receive its vaccine shipment this month.
"Final approvals of the Pfizer vaccine are underway, so we don't have an exact delivery date for the vaccine," she said. "But having this freezer in place means we'll be ready."