Helping patients receive state health insurance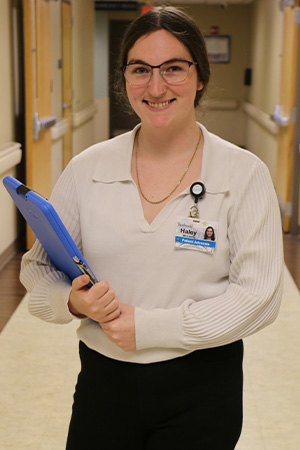 For patients at Bothwell Regional Health Center, on-site assistance exists for people who don't realize they may be eligible for MO HealthNet, Missouri's Medicaid program that helps people with limited income and resources with their health care costs.
In August 2020, Missouri voters passed a constitutional amendment that allowed more people to be covered under the program. Department of Social Services statistics show that more than 1.4 million Missourians have health care coverage through MO HealthNet. Since April 7, 330,000 enrollees are in the new eligible population of adults ages 19 to 64, including parents and adults without children.
Haley McCarthy, a patient financial advisor at Bothwell, recently began her position and educates patients on MO HealthNet and encourages them to apply if they are eligible.
"I visit patients in the hospital and reach out to those who receive outpatient services to walk them through the application process," she said. "The goal is to help patients obtain overall medical care and take the stigma away from getting assistance. So many people don't want to obtain Medicaid coverage because they feel embarrassed, but there's no need anyone should be embarrassed about getting health care insurance."
A lifelong Sedalia resident, McCarthy discovered her passion for health care when she participated in Bothwell's Medical Explorers program as a teen. She has a bachelor's degree in Social Work from the University of Central Missouri.
"While I chose not to become a doctor or nurse, I believe my background in social work is allowing me to have an impact on patients' health care experience," she said. "When people have reliable health care insurance, they are more likely to have regular doctor visits and get preventative care that will help them remain healthy."
McCarthy is available to help recent Bothwell patients obtain Medicaid coverage and encourages current Medicaid participants to be aware of the state's new renewal process.
"If you have recently been a patient at Bothwell and think you're eligible for Medicaid coverage please contact me at hmccarthy@brhc.org," she said. "Current participants should make sure their address is current with the state and watch for their renewal letter. Annual program renewals haven't been required for three years due to the pandemic so it's going to be new for a lot of people."
Non-Bothwell patients who think they may qualify for MO HealthNet coverage should contact the Missouri Family Support Division.