Increasing health care cost transparency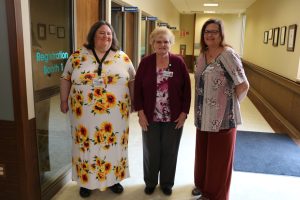 Say goodbye to unexpected, heavy-hitting medical bills in the mail or notices from collection agencies regarding a forgotten hospital visit from six months ago. Say hello to clear cost breakdowns and payment expectations at the time of your appointment.
In a transformational move to increase overall patient satisfaction and provide consistent communication throughout the organization, Bothwell Regional Health Center will soon roll out "no surprise billing" through their revised pre- and point-of-service policy.
This change will not only offer consistency throughout clinics and departments, but it will also allow for complete transparency for patients. Traditionally, post-service collections can lead to delays and/or errors in billing and financial uncertainty for both patients and health centers.
"With consistent point-of-service collections, patients will no longer feel in the dark about the cost of their care," said Diana O'Connor, Bothwell's Patient Financial Services director. "This new process will give patients the opportunity to make informed decisions regarding their health care while taking into account their financial obligations."
Prior to an appointment, procedure or test, patients will be informed of the estimated out-of-pocket costs for the service subject to insurance copays and remaining deductible and coinsurance. Staff will then ask patients during this pre-registration process for payment. A prompt pay discount of 20% can be applied when payment is made on or before the date of the service.
In the event a patient is unable to pay the obligation in full, pre-registration staff will request a deposit based on the service and the patient's insurance status.
If payment is not made during pre-registration, patients will next be asked at the time of service to provide in full the estimated service cost or a deposit before meeting with their physician or having a procedure. This point-of-service practice is already happening in many clinics when staff ask for insurance co-payments; however, the goal is to implement the process in hospital departments as well and create consistency in communication processes.
For patients who need payment options, Bothwell offers a 12-month payment plan with minimum payments of $50 a month. If longer terms are needed, Bothwell partners with Central Bank of Sedalia in offering a three-year, interest-free loan up to $15,000 or a five-year loan option of up to $30,000 with the first three years interest-free.
If a patient cannot pay at the time of service and has accessed all other possible payment options, the appointment will be rescheduled. Staff will assist in determining all possible options prior to canceling any appointment or procedure appointment and notify the patient's physician or provider so they are aware the appointment needs to be rescheduled.
"We don't want to deny care to any individual and will work with patients on payment options," O'Connor said. "It's standard in health care and many businesses ask for payment at the time of the service. Our goal with the implementation of this new collections process is to increase awareness of health care costs and various payment options and decrease the number of accounts that are delinquent or sent to collections."
Point-of-service collection has been introduced slowly in Bothwell clinics throughout the past year and has been met with positive feedback from both patients and employees. Patients appreciate the clarity of cost, allowing them to avoid unexpected financial burdens.
"We understand it will take time to become used to point of service collections, which is why the roll-out process will be gradual," O'Connor said.
CTs and MRIs in both the hospital and the Diagnostic Center will be the first hospital services where this new collection process will be implemented. Other imaging services, respiratory services, Same Day Surgery and X-Rays will follow.
To make the transition seamless and easier for both patients and staff, Bothwell is introducing a new support staff position of Patient Navigator. These individuals offer a personal connection between the organization and the patient as well as provide answers to any questions or concerns that may arise throughout the process.
"Point-of-service collection has been required at other health systems for some time and leadership believes now is the time to fully execute it," said Steve Davis, Bothwell's Chief Financial Officer. "With the objective of increasing transparency and consistency for the patient, we can become more efficient in our billing and communications with people seeking care. We are committed to exceptional patient care and hope this transition will allow for a more worry-free financial experience for our patients."