Bothwell's Kiburz recognized by UCM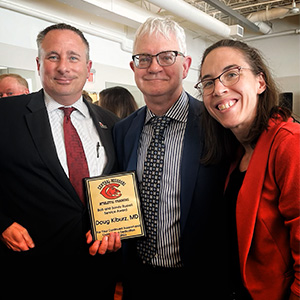 Dr. Douglas Kiburz, orthopedic surgeon at Bothwell Orthopedics & Sports Medicine, recently received the Bob and Sandy Russell Service Award from the University of Central Missouri (UCM) Athletic Training program.
The award recognizes an individual who donates their time, talent and resources for the betterment of the program. Dr. Brian Hughes, program director and professor, said Kiburz has served as clinical instructor for both the prior bachelor's program and the newly implemented master's degree program.
"This is Dr. Kiburz's 14th year of helping the program," he said. "His passion and service to ensure that our students have a high-quality clinical education has been invaluable to us."
Following his extensive education in Nebraska, Kansas and Virginia, Kiburz came to Sedalia in 1986. He soon connected with Dr. Ron VanDam, who at the time was a professor and head athletic trainer at UCM. 
"Ron was a good friend and hand ball player with Bob Russell, so it's interesting how it all comes full circle," Kiburz said. "He had a close friend who was the head of the University of Virginia Athletic Training program where I did my hand surgery fellowship. After getting positive reports about me, he reached out about supporting UCM's program."
VanDam's and Kiburz's partnership over the years allowed Kiburz to have an impact on UCM's Athletic Training program. The connections and networks made at the beginning of his career have been the driving force behind Kiburz's ability to become involved and serve students.
"By allowing our students to interact with him in both the clinical and surgical settings, our students are better able to understand the evaluation process and surgical procedures that take place to heal their patients' injuries," Hughes said. "Dr. Kiburz is not only an advocate for our education program but also for the entire athletic training profession."
Kiburz said he had mentors throughout his education and credits them with teaching and assisting him during his career, which is why he gives back in his work alongside UCM students.
"Teaching makes anyone focus on what they are doing, provide the reasoning behind it and involve the entire team in the educational process," he said. "Bringing students into the workplace helps show work and life in the nonacademic world. Young minds bring excitement, questions, curiosity and enthusiasm to the day-to-day, which is a plus for the entire staff."
Kiburz received the award at the annual UCM Department of Nutrition, Kinesiology and Health Scholarship and Awards reception on Friday, April 21, at the UCM Student Recreation and Wellness Center.