Bothwell Names Lori Wightman CEO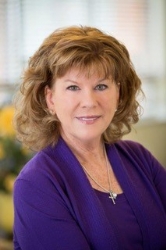 Bothwell Regional Health Center is pleased to announce the placement of its new Chief Executive Officer Lori Wightman, RN, MHA, FACHE.
Reporting to the Board of Trustees, Wightman will provide visible and effective strategic and administrative direction and partner with the senior leadership team in the development of organizational growth and improvement strategies. She will work collaboratively to enhance operational management and performance and continue to build strong relationships with the community and healthcare partners. Wightman's projected start date is June 17, 2019.
Wightman and her husband, Darren, come to Sedalia from Ada, Oklahoma, where she served as president of Mercy Hospital Ada, a position she held the past five years. She previously served as vice president of operations for Regional Health Services at Allina Health in Minnesota, as well as president of New Ulm Medical Center in New Ulm, Minnesota, and as president of Unity Hospital in suburban Minneapolis.
"I am honored to be asked to lead Bothwell Regional Health Center," Wightman said, "Both Darren and I are looking forward to our next new chapter in Sedalia."
She is a registered nurse with a master's degree in healthcare administration. Wightman received an associate's degree in nursing from North Dakota State University (NDSU), a bachelor's degree in nursing from Minnesota State University-Moorhead (MSUM), and a master's degree in health administration from University of Colorado-Denver.
Wightman is an active member of the American College of Healthcare Executives (ACHE). She served as regent for Minnesota and as a governor on the Board of Governors for the College. In 2011 and 2012 Wightman was recognized by both MSUM and NDSU with Distinguished Alumni awards.
Cam Jennings, chairman of the Bothwell Board of Trustees, said the board is looking forward to working with Wightman.
"Lori has a deep understanding of patient needs and a history of focusing on quality, sustainable growth and the engagement of patients, medical staff and employees," Jennings said. "We are very pleased at her appointment and look forward to the collaboration of her partnership with the board and senior executive leadership as we navigate the active landscape of independent healthcare organizations."
In December, Tyler & Company announced a partnership with Bothwell Regional Health Center to search for a new CEO. Preston Smith, president of Tyler & Company, led the search.
"Bothwell is an outstanding healthcare organization, and we are excited about the recruitment of Lori Wightman to be the next CEO," Smith said. "Lori truly understands the critical importance of Bothwell's role to continue bringing affordable and accessible healthcare in an exceptional and compassionate way for patients and their families in the central Missouri area."
BRHC holds 108 beds and employs more than 900 people in 12 different locations. Bothwell has about 100 physicians providing care in more than 30 specialty areas, which include diagnostic, medical and surgical services, cancer care, emergency services, orthopedics, cardiovascular care, neurodiagnostic, obstetrics and gynecology, pediatrics, outpatient services, diagnostic imaging, medical equipment and community outreach and education. Bothwell operates a network of clinics, outpatient service facilities and rehabilitation therapy.