New Bothwell K9 team ready to work
"Man's best friend" is a common phrase to describe the relationship between humans and dogs. Mike VanDeusen, Security officer and K9 handler at Bothwell Regional Health Center, has already established a strong connection with his new four-legged best friend and coworker, K9 Officer Ringo.
In a little more than eight weeks on the job as a new team, VanDeusen and Ringo have been familiarizing themselves with the buildings and grounds, educating employees, patients and visitors on their purpose and helping where needed.
For VanDeusen, handling security dogs has been a lifelong ambition. He enlisted in the U.S. Air Force at age 17 and retired in 2020 as an E7 Master Sergeant. He was a member of Security Forces and trained and handled working dogs for about eight years; his last assignment was Kennel Master, where he managed his base's military working dogs program.
"Working with K9s as a profession is something I've always wanted to do," he said. "It has allowed me to be outside and be active while providing an important service."
According to the U.S. Bureau of Labor Statistics, health care workers are increasingly being assaulted or shot on the job, making hospitals and clinics among the most dangerous workplaces in America.
Last fall, the Bothwell Foundation raised over $67,000 to add a K9 to Bothwell's Security team in response to an increase in violence at the hospital. In 2022, more than 14,000 calls were made to Security for assistance. The team encountered 274 combative patients, use-of-force was employed 49 times, the Sedalia Police Department was called 30 times for backup, and 30 employees were assaulted.
"Violence in the workplace, especially at a hospital, should never be tolerated," said Bob Blacklock, Bothwell's Security supervisor. "Our employees need to concentrate on caring for people instead of worrying about how to stay safe. Having Ringo is just another tool in our security toolbox to help mitigate bad behavior and violence."
Ringo was born in May 2021 in Jessen, Germany, and was selected for Bothwell by Von Der Haus Gill Police K9 Academy in Wapakoneta, Ohio. Training normally takes six weeks but due to VanDeusen's prior experience with working dogs, they spent four weeks together and reported for work in September.
The team's duties consist of daily patrols inside and outside the hospital, including the Emergency Department, regularly visiting Bothwell's over 20 outpatient clinics and answering calls for assistance.
"One of the first tasks we did was just walk around to let people see us and ask questions," VanDeusen said. "It was also an orientation for Ringo. He needed to get used to tile floors and carpet, the elevators and stairs."
Blacklock also has experience working with K9s. He retired as a Senior Master Sergeant in the U.S. Air Force after serving for 28 years. He worked in Security and spent about three years overseeing a team of handlers and nine dogs. He said he's pleased with Ringo's progress and how he and VanDeusen have integrated into the Bothwell system.
"Mike is doing a fantastic job, and it's like he has been here a long time already," he said. "In my opinion, Ringo is about a year ahead of where I thought he would be as a new dog right out of training. Up until he arrived at Bothwell, he'd spent a lot of time in his kennel and wasn't around a lot of people. He's been around hundreds of people since arriving and has gotten great awareness of the surroundings."
Blacklock and VanDeusen said the main difference between civilian working dogs and military dogs is that civilian dogs go home with their handler and assimilate into their human family's life. VanDeusen is married with two young sons and has a family pet. He said it took Ringo a bit longer to acclimate at home than at his job at Bothwell.
"He hadn't been around other dogs or people before coming to live in our home," he said. "He followed me around a lot yet was still well-behaved. He just needed some time to adjust. He has fit in great with the family and plays with our other dog and kids. It's his time to relax and just be a dog."
Ringo is trained in controlled aggression, explosives detection, tracking and article searches, and obedience. He and VanDeusen are certified by the National Association of Professional Canine Handlers as a security and explosives detection team. In their short time working, they have been asked to be close and visible when a patient or visitor was being loud or not listening or when Sedalia Police Department personnel have been on site escorting prisoners.
VanDeusen described Ringo's temperament as calm, confident and patient.
"He's very observant, which is an excellent trait for a dog in this environment," he said. "He's not a 'barker' and he's not going to attack unless I see the situation warrants it and I give him the command. More than likely, his presence will be enough to deter someone from doing something bad but he has the skills and training to intervene when necessary."
Reactions to Ringo from employees have been positive and supportive.
"Most everyone's first comment is, 'Wow, he's so beautiful, can I pet him?'" VanDeusen said. "Unfortunately, the answer is no. When we're working, he needs to be allowed to focus on his job, which is to be alert and to protect and serve."
Lesley Jackson, Bothwell's Emergency Department manager, said she and other staff are happy to have Ringo on site and available when needed.
"Violence against health care workers is a very real issue we encounter," she said. "We hope Ringo's presence alone will help stop some things before they even start."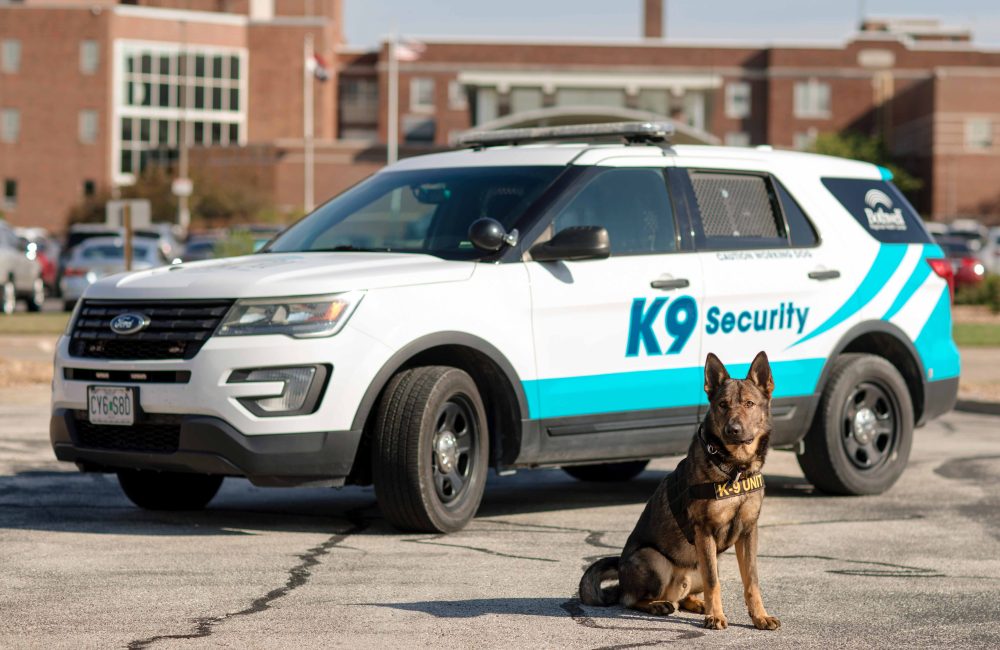 K9 Officer Ringo is a two-and-a-half-year old German Shepherd who works with handler Mike VanDeusen to protect employees, patients and visitors at Bothwell Regional Health Center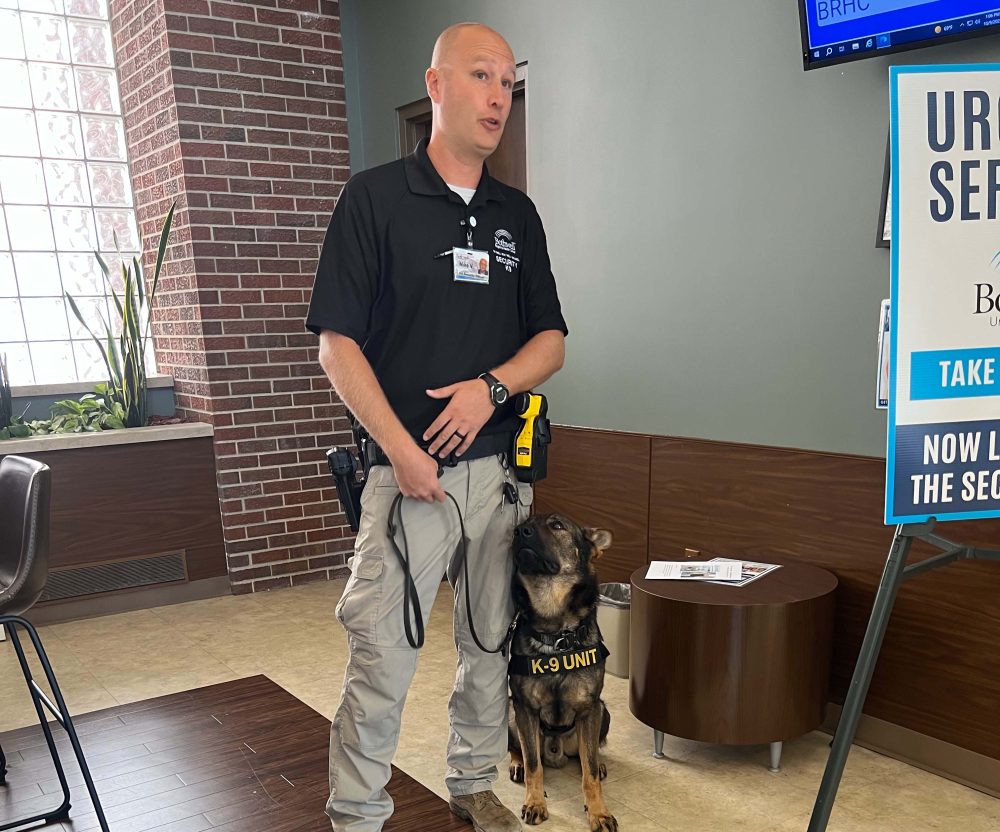 Security Officer and K9 Handler Mike VanDeusen regularly provides information about the team's work to outside groups that tour Bothwell Hospital