New nurse practitioner joins Bothwell's Cole Camp and Lincoln clinics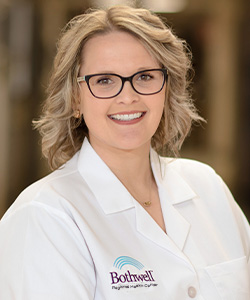 Board-certified Family Nurse Practitioner Cara Arender has joined the Bothwell Regional Health Center Cole Camp and Lincoln clinics and will care for patients of all ages.
As a nurse practitioner, Arender will provide patient care under the guidance and supervision of a collaborating physician. She can evaluate and treat illnesses and injuries, order and interpret labs and tests, prescribe and monitor medications and refills, and perform annual health and well-woman exams and physicals.
Arender has been a nurse for 12 years and received a master's degree in Family Nurse Practitioner from Simmons University in Boston, Massachusetts. She earned a bachelor's degree in Nursing from Southern New Hampshire University in Manchester, New Hampshire, and an associate degree in Nursing from Jones County Junior College in Ellisville, Mississippi.
Originally from Mississippi, Arender has lived in Missouri since 2019 and moved to south of Sedalia in 2021. She began working at Bothwell Regional Health Center in July 2021 as a registered nurse in the Post Anesthesia Care Unit (PACU). She has a variety of health care experiences in emergency care, intensive care, step down and PACU in many different hospitals. Arender said she knew she wanted to be in health care from an early age.
"I have always enjoyed caring for people and building relationships with them and their families. Nursing has let me do that and also help them heal," she said. "I have also had the privilege of working at many different hospitals ranging from community hospitals like Bothwell to Level 1 trauma centers like MU Health Care. That diversity has allowed me to know what resources are available to patients."
Arender said she decided to pursue becoming a Nurse Practitioner because she wanted to be more of a resource to people along their health care journeys.
"I want patients to feel comfortable when they go see their primary care provider and know their concerns will be heard and addressed as well as they can be," she said. "Sedalia and the surrounding communities have a lot of underserved citizens who deserve health care, and I want to provide them with professional and appropriate services."
Keith Morrow, Bothwell's Clinic Operations vice president, said adding Arender to the medical team means more options for Benton County residents to be seen for care.
"We're excited to add Cara to the medical team," Morrow said. "She has a lot of different clinical experiences, yet she excels at caring for people in smaller communities because of her ability to connect with her patients and understand their needs."
Arender will start seeing current and new patients around the middle of January. She will be at the Lincoln clinic three days a week working with Dr. Matthew Roehrs and at the Cole Camp clinic two days a week with Dr. Misty Todd and Nurse Practitioner Pamela Eckhoff.
"As a board-certified Family Nurse Practitioner, I will be able to see health issues in pediatric and adult patients, including ear infections, upper respiratory illnesses like colds, flus and RSV, well visits, women's health care, school physicians, high blood pressure, diabetes and minor injuries," she said. "I want to help the community and provide them the best care I can. I plan to listen to my patients and be a compassionate and understanding provider and someone they can trust."
Arender is married and has three daughters aged 7, 5 and 2. She and her husband enjoy spending time outdoors fishing and hunting and keeping up with their children's activities.
To make an appointment to see Arender, call Bothwell Centralized Scheduling at 660.829.8888.