New pediatrician joins Bothwell medical team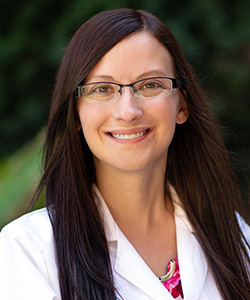 Dr. Brieanna Kroeger has returned home and joined Bothwell TLC Pediatrics as a general pediatrician. Kroeger will care for children ages birth to 18 treating their routine illnesses and health conditions and providing wellness checkups. She will also care for newborns in the hospital and authorize hospital admissions when necessary.
A graduate of Smithton High School, Kroeger received her medical degree from the University of Missouri School of Medicine in Columbia. She completed her residency at University of Missouri Women's and Children's Hospital where she rotated through a wide variety of pediatric specialties from the NICU to general pediatrics. Kroeger also earned a bachelor's degree in Biological Sciences from Missouri University of Science and Technology in Rolla and an associate degree from State Fair Community College.
Kroeger said she knew at an early age she was interested in health care and especially caring for children.
"Growing up I always had a strong interest in and aptitude for science; the inner workings of the human body fascinated me," she said. "I also had a passion for helping others, especially those who were sick. I have always loved working with children and went into medical school with a strong inclination that I would end up in pediatrics. My medical school rotations reinforced that the specialty is right for me."
Keith Morrow, Bothwell's Clinic Operations vice president, said Dr. Kroeger is joining a busy pediatric clinic that includes Dr. Assad Shaffiey, Dr. Stephanie Lind and Nurse Practitioner Sarah Price.
"We're thrilled to have Dr. Kroeger join the Bothwell TLC Pediatrics team and start seeing patients" he said. "She received an excellent foundation of training during her residency at Women's and Children's Hospital where she cared for many pediatric ailments. She also grew up in the area and did several clinical rotations at Bothwell, which gives her a built-in advantage of knowing the community and local resources."
With a lifetime of interest in caring for children and families, Kroeger said she's excited to take on new patients and is glad to be back home and closer to family.
"I am particularly passionate about helping children because of their innocence and resiliency that never ceases to amaze me," she said. "I love working with families to help them raise healthy children, and it's such a blessing to be a part of their life and their growth. I was born at Bothwell and grew up in the Smithton countryside. Taking a job here is like coming full circle."
To make an appointment to see Dr. Kroeger, call Bothwell TLC Pediatrics at 660-829-5852.