New Nurse Practitioner Joins Bothwell Eldenburg Family Practice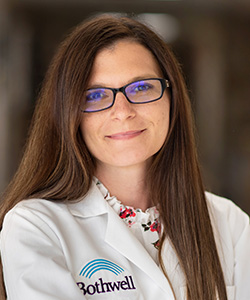 Jennifer Buckingham, a board-certified Family Nurse Practitioner, has joined Bothwell Eldenburg Family Practice and will care for patients of all ages.
As a nurse practitioner, Buckingham will provide patient care under the guidance and supervision of Dr. Steven Eldenburg. She can evaluate and treat illnesses and injuries, order and interpret labs and tests, prescribe and monitor medications and refills, and perform annual health and well-woman exams and physicals.
Buckingham received a master's degree in Nursing from University of Central Missouri in Warrensburg and has been a nurse for more than 13 years. She earned a bachelor's degree in Nursing from Central Methodist University in Fayette, Missouri and an associate degree in Nursing from State Fair Community College. Her experience includes working in internal medicine, case management, cardiology and as an infirmary nurse in corrections.
"My previous experience is valuable," Buckingham said. "The diversity of my patients and their needs has allowed me to grow into a professional who can think outside the box and provide care for patients with many types of illnesses and barriers to their health care."
Buckingham will treat many different types of health issues, including illnesses, injuries and provide preventative care. Keith Morrow, Bothwell's Clinic Operations vice president, said adding Buckingham to the medical team means more opportunities to serve families in the area.
"Jennifer will make a great addition to the Eldenburg practice," Morrow said. "Her expansive, unique care
experiences including cardiology and infirmary care set her apart as a Nurse Practitioner dedicated to her
profession."
Buckingham said she has always enjoyed caring for people, even as a young child. Health care has always been her aspiration and she knew that becoming a Nurse Practitioner would allow her to better care for patients.
"As a health care professional, I enjoy every aspect of my job," Buckingham said. "Learning to better care for my patients requires a lot of listening, and I am willing to go the extra mile to ensure that my patients' needs are met."
To make an appointment to see Buckingham, call Bothwell Eldenburg Family Practice at 660-827-7998 or
Centralized Scheduling at 660-829-8888.