Nurse practitioner joins Bothwell Clinics Off Broadway medical team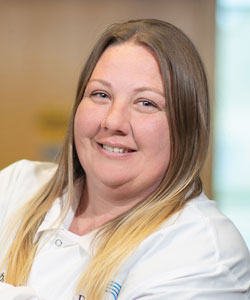 Stacey Dobbs, a board-certified Family Nurse Practitioner, has joined Bothwell Clinics Off Broadway, which includes Walk In Off Broadway and Eldenburg Family Practice.
As a nurse practitioner, Dobbs will provide patient care under the guidance and supervision of a collaborating physician and will care for patients of all ages for their urgent health care needs at Walk In Off Broadway and see patients by appointment at Bothwell Eldenburg Family Practice. She can evaluate and treat illnesses and injuries, order and interpret labs and tests, prescribe medications, and perform annual health and well-woman exams and physicals.
Dobbs has been a nurse for over 20 years and received a master's and bachelor's degree in Nursing from Saint Louis University. Her experience includes working in hospital emergency departments, occupational and sports medicine, and surgical units. She also was a Nurse Practitioner at Bothwell Truman Lake in Warsaw for four years providing family medicine care.
After gaining experience in a large health care organization's urgent care, Dobbs decided to return to Bothwell because she missed working in a community close to home and building relationships with her patients.
"Although each of my previous jobs pushed me outside of my comfort zone and gave me the opportunity for personal and professional growth, I returned to Bothwell because they have been the best facility I have worked for," Dobbs said. "They have both aspects of a larger organization but maintain the closeness of a smaller facility."
Dobbs will work with Dr. Steven Eldenburg and Nurse Practitioner Jennifer Buckingham to provide medical care to babies, children, teens, adults and seniors in Sedalia and surrounding communities.
Michel Laas, Bothwell's Interim Clinic Operations vice president, said she looks forward to Dobbs's return and the care she will provide the community.
"Stacey spent four years as a Family Nurse Practitioner at our Warsaw clinic and built relationships and strong rapport with her patients," Laas said. "She is familiar with Sedalia and the community and is dedicated to providing exceptional rural health care. I'm excited she's back with us."
Dobbs said in addition to caring for people in rural communities, she has a strong interest in mental health.
"Mental health care is holistic to providing health care and is often poorly recognized or overlooked, both of which are compounded by poor access to mental health care," she said. "I am familiar with the challenges of living in a rural area and I know and understand the value of rural health care. I'm looking forward to providing same-day access to both urgent and primary care needs of the people I see."
Walk In Off Broadway is located at 700 S. Hancock and hours are 7 am to 6 pm Monday through Friday.
To make an appointment with Dobbs at Bothwell Eldenburg Family Practice, call the clinic at 660.827.7998.