Nurse practitioner joins Bothwell Lincoln and Cole Camp clinics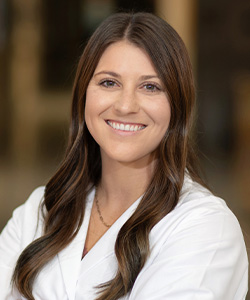 Samantha Kelly, a board-certified Family Nurse Practitioner, has joined Bothwell Regional Health Center's Lincoln and Cole Camp clinics and will treat patients of all ages.
As a nurse practitioner, Kelly will provide care under the guidance and supervision of clinic physicians. She can see patients, evaluate and treat illnesses and injuries, order and interpret labs and tests, prescribe and monitor medications and refills, and perform annual health exams, well-woman and physicals.
Kelly grew up in Green Ridge and lives in Cole Camp. She has been a critical care nurse for four years and received a master's degree in Family Nurse Practitioner from Maryville University in St. Louis, Missouri. She earned a bachelor's degree in Nursing from Missouri Valley College in Marshall. Kelly has experience working with trauma and emergency interventions and seriously ill patients at MU Health Care, as well as three years as a nurse at Bothwell.
Kelly chose to pursue nursing to fulfill her passion for helping others. As a third-generation nurse, she is excited by the opportunity to be a source of trust and comfort for patients when they are sick or just in need.
"I decided to go back to school and become a nurse practitioner because I knew I wanted to help people on a different level as a provider," she said. "Nursing is constantly growing and expanding, so learning the skills necessary to help patients become and stay healthy in the primary setting was very important to me."
Michele Laas, Bothwell's interim Clinic Operations vice president, said Kelly is a welcome addition to the Lincoln and Cole Camp clinics.
"Sam will be a great asset to both clinics," she said. "Her presence will mean more patients can have quicker access to care when they need it. I know Sam personally, and she's a terrific nurse. She lives in the area and is committed to caring for people in these communities.
Kelly said though she had a wonderful start to her nursing career at MU, she always knew she wanted to move back home.
"Coming back and working at a rural hospital, I quickly felt comforted knowing that teamwork and patient care in a rural community was just as exceptional as a larger health care system," Kelly said. "Collaboration is key in making sure patient outcomes are positive."
Kelly joins Dr. Matthew Roehrs at Bothwell Lincoln Family Medicine and Dr. Misty Todd and Nurse Practitioner Pam Eckhoff at Bothwell Cole Camp. She will see patients in Lincoln from 8 am to 5 pm Mondays and Tuesdays and in Cole Camp from 8 am to 5 pm Wednesdays and Fridays. On Thursdays, she will work at the clinic that has the highest demand.
To make an appointment to see Kelly at either location, call Centralized Scheduling at 660.829.8888.