Roll Receives Coveted DAISY Award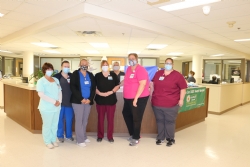 Like many nurses, Connie Roll became a nurse because she wanted to help people. It's precisely this desire to help that earned her an award for being an extraordinary nurse.
Roll, a licensed practical nurse in Bothwell Regional Health Center's 3 Southwest unit, is the latest recipient of the hospital's DAISY Award, which is given periodically to a nurse who best exemplifies competent and compassionate care.
Roll was nominated for the award by a patient who said she goes above and beyond to make sure her patients' needs are met.
"Connie does more than just go to work at a job," the patient said. "She gives continued care to help people. She gives of her time and makes you feel that she cares, and then she tries to figure out a way to help you even more."
Roll said the favorite part of her job is her patients.
"One of the things I like about my job is getting to meet new people," she said. "But then I have patients who have come to the hospital numerous times that I have gotten to know and sometimes they are like old friends."
The nominator said she most appreciated Roll's personality and her willingness to help.
"She is such a nice person," she said. "Connie is always asking to do something else to make your day better. I'm glad she helped me through my stay at the hospital."
Bothwell's Chief Nursing Officer Rose McMullin presented Roll with a certificate commending her for being an "Extraordinary Nurse." She also received a DAISY Award pin and a sculpture called "A Healer's Touch," hand-carved by artists of the Shona Tribe in Africa. Also, a DAISY Award banner recognizing her will hang on the nurses' desk in 3 Southwest, and Roll's name will appear on the DAISY Foundation website.
"Connie is a stellar nurse and so deserving of the prestigious DAISY Award," McMullin said. "We love receiving nominations from patients or their families because it validates the work that each nurse does every single shift. Health care is a stressful occupation and getting to recognize our staff is a highlight in everyone's day."
Roll has worked at Bothwell since 2002 and this is her first DAISY Award.
"It is very exciting to know that my patient thinks I did a great job," she said. "Sometimes as a nurse, you feel that you are not making much of a difference to your patients. This award means that to at least this patient, I have made a difference to her."
The DAISY Award for Extraordinary Nurses was started in 1999 in Glen Ellen, California, by members of the family of Patrick Barnes, who died at the age of 33 of complications from an autoimmune disease. The care his nurses provided was the inspiration for the DAISY (Diseases Attacking the Immune SYstem) Award.
An international award, the DAISY is awarded in more than 2,800 health care facilities in all 50 states and 17 countries.
Bothwell Regional Health Center began recognizing its nurses with the DAISY Award in 2018. Jessica Wheeler, Shari Thomasson, Shasta Nardi, Courtney Rumans, and Sarah Plante are previous recipients.