Saying so long to Sedalia's cardiac care pioneer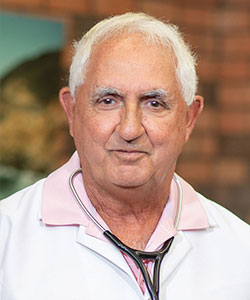 Dr. Ken Azan to retire
The saying, the "third time's the charm" doesn't apply to Dr. Ken Azan.
"I said I was going to retire at 60," he said, "I couldn't do it, so then I said I'd go at 65, then 70, then 75."
Now at 78, Azan said it's finally time to hang up his stethoscope and say so long to a storied 48-year career as a physician, all in Sedalia, when he retires at the end of December.
Azan is originally from Jamaica and earned his medical degree in 1969 at the University of West Indies. After finishing surgery and internal medicine internships in the warmth of the Caribbean, he completed an internal medicine residency and dual internal medicine/cardiology fellowships in Ontario, Canada, much farther north than his roots.
While reading a medical journal, he saw an ad about a job in Sedalia. He inquired and got a response from Dr. Jerome "Jerry" Block, an integrative medicine physician with his own practice.
"Dr. Block was an internist and the only one in Sedalia," Azan said. "I called and he said he needed help so I came to visit in July 1975. I found Sedalia to be friendly and it seemed like a good fit. I also wanted to be busy and no longer cold."
Azan landed in Sedalia on Nov. 8, 1975, and started working Nov. 12; he and Block practiced together until Block left Sedalia in 1982. Dr. William Woolery bought the practice and the two shared space along with Dr. David Wuellner until 1987 when Azan formed his own private practice.
"We were separate entities but had professional relationships," he said. "Between the three of us we shared coverage and worked together to care for patients."
As an internal medicine physician, Azan has a patient-centered approach and is specially trained to solve problems, manage severe long-term illnesses and help adults with multiple, complex conditions. His extra training in cardiology allowed him to introduce non-invasive heart care to Sedalia and become the first doctor in the area to provide cardiology specialty care.
"When I arrived in Sedalia, nuclear cardiac stress tests weren't available, so along with Dr. Bob Farkas, we instituted that," he said. "I am also particularly proud to have started the echo program here, which was something that needed to be done to increase our ability to treat patients."
An echocardiogram, or cardiac ultrasound, is a type of diagnostic imaging that uses sound waves to help diagnose heart conditions. The technology was used in the United States starting in the mid-1960s. Azan also pioneered the use of thrombolytic therapy at Bothwell, which is "clot-busting" medications that destroy blood clots or prevent clots in heart attack and stroke patients.
"The interventions available in cardiac care made significant differences in how we started treating heart attacks and strokes," Azan said. "From thrombolytic therapy to ultrasounds, CTs and MRIs, it's all dramatically changed how we deal with people. Before this technology, we had to deduce the problem on our own; we can see things now with these imaging tools that take the guesswork out of it, which makes the diagnosis faster and is better for the patient and the physician."
Along with his clear clinical expertise, the cornerstones of Azan's reputation are his availability to his patients and some would say – his dogged approach to patient care, both traits his patients love.
Thomas Saulbeamer of Sedalia started seeing Azan as his family physician in 1993. After moving away, he suffered severe injuries in a private plane crash in Ohio in 1995.
"My family and I moved back to Sedalia after the accident and Dr. Azan took me back as a patient," he said. "That was 46 operations ago. He was always there, always on top of my issues. If he didn't feel comfortable or he felt like he didn't have the expertise, he got me anywhere, Bothwell or wherever, that I needed to get better."
In 2007, Saulbeamer experienced heart issues and ended up needing seven stents and a pacemaker.
"He's the best thing that ever happened to me when it comes to medical care, and I wouldn't be here without him," he said. "He's also one of the best things that's ever happened to Sedalia and definitely to Bothwell. There's something special about him; you're not going to replace him."
Connie McLauglin came to know Azan when he cared for her mother over 40 years ago.
"I was so impressed with the care he gave my mother that I started going to him," she said. "He knows his patients, their families, their history. He takes such an interest in you personally. He's one of the most compassionate physicians I've ever known. I've always admired his intelligence and his tenacity. He will not quit trying to find the right solution for any kind of medical problem."
When Azan cared for her husband, McLaughlin said it was not just Azan who was part of their care team.
"Bill was sick for a long time," she said. "He and his wife, Phoebe, were always there for us. They would stop by on a Sunday to check on us, or Phoebe would bring me food at the hospital. They didn't have to do those things but they did because that's the kind of people they are."
Lynda Beasley has been Azan's nurse for 31 years and said he taught her that patients always come first.
"He told me, 'work them in' even if it is after 5 pm," she said. "That was a huge lesson I got from him. He showed me that if you give all you have to your patients, they will greatly appreciate all you do for them. I remember making house calls with him after hours, and the look on our patients' faces were so humbling. He taught me so many things that I will keep in my heart forever. It will be a big loss when he retires … I love him to pieces."
Many of Azan's patients will continue care with Nurse Practitioner Leah Hermanson who has known Azan for 20 years when she worked alongside him in the hospital's critical care unit. For the last six years, she has worked with him in his clinic.
"Dr. Azan is such a hard worker," she said. "When I started working with him, he would see 35 patients every afternoon after rounding on 10 to 20 patients in the hospital most every day. His special gifts are his ability to make conversation with strangers, communicate with patients in terms they understand and somehow make the elderly patients he treats worship the ground he walks on."
It's also apparent Azan likes the heat. Whether it's the adrenaline rush of saving six heart attack patients in the emergency room in one afternoon (that happened), keeping his clinic's temperature at a precise 75 degrees, much to the chagrin of staff and patients, or wintering in Florida, he likes life warm. He also likes to apply the heat as he's well known for speeding up people around him with his "quickly, quickly" admonishments or maybe even a few choice words.
When asked his plans beginning Jan. 1, Azan paused and got a little misty-eyed.
"I've never been here and not worked, so we'll see," he said. "I might help with the hospitalist program at the hospital or read echos and EKGs. I will miss my patients terribly and being needed by them."
These long and tight relationships means his impending retirement is causing some strong emotions among his patients.
"I've told him many times, he might be retiring, but I'm still going to be his patient even if I have to go to Florida," Saulbeamer said with a wry laugh. "He told me, 'come on.' I love that man, without a doubt, and I think the world of him."
McLaughlin agreed and said Azan is an important part of the community and an extremely important part of Bothwell's history.
"I'm so sad and feel like I'm losing my security blanket," she said. "When I think about him, I will smile because he has made that type of impact on mine and my family's life."
Azan said he hopes his legacy as a physician is that he tried his best whether it is the way he cares for his patients or by changing the face of cardiac care in Sedalia.
"Starting the echo lab was a vital addition to diagnostic cardiac care that I'm really proud of," he said. "I also hope I'm remembered as someone who cared and who was dedicated to the cause and gave it my all."
That a warm-blooded Jamaican ended up in Sedalia, Missouri, was a stroke of luck for Bothwell and the thousands of patients he's cared for over 48 years.
"As a foreigner coming to Sedalia, I was immediately embraced by the staff and people here," he said. "I was never made to feel like a stranger; they had no reservations, they welcomed me and supported me from the beginning to the end. I appreciate everyone who has supported me in my journey, from the hospital, my patients and my staff. It's been a great ride."
Bothwell will host a reception for Azan from 4-6 pm Dec. 12 in the Café located on the hospital's ground floor. Patients and the public are invited to attend.