Second nurse midwife joins Bothwell OB/GYN Associates team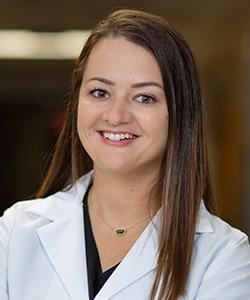 Brittany Freeman, certified nurse midwife, has joined the medical team at Bothwell OB/GYN Associates, a full-service clinic that treats women's health issues.
Nurse midwives provide care to women from adolescence through menopausal years. For pregnant women, they provide care during prenatal visits, deliver babies and can provide care after the baby is born. Nurse midwives have similar roles to OB/GYNs but focus on natural techniques for childbirth and reproductive care.
Originally from the St. Louis area, Freeman most recently worked as a certified nurse midwife at Missouri Baptist Medical Center in St. Louis. Prior to that she was a labor and delivery nurse at Mercy Hospital and Mercy Jefferson in St. Louis and a maternal child and pediatric clinical instructor at Jefferson College. Freeman started her health care career as an obstetrical surgical technician but her interest in health care, specifically women's health was sparked in her youth.
"I became interested in health care when my mom experienced an unexpected pregnancy when I was in high school," she said. "I was able to attend many of her doctor visits with her, and fortunately, she had an uncomplicated pregnancy and birth. The successful delivery of my baby sister is why I became a labor and delivery nurse."
During her time as a labor and delivery RN, Freeman provided safe care to women during their labor and birth and the postpartum period and developed strong relationships with patients in their most vulnerable moments. It was the desire to continue building relationships with women that caused her to pursue midwifery.
"I loved my nursing role, but I wanted more patient connection," she said. "As a nurse midwife, I can help educate women about important health issues and partner with pregnant women on birth options and plans and afterward, assist them with breastfeeding, self-care and postpartum health care."
Freeman will join Dr. Michael Carozza, Dr. David Oberkrom, Dr. Lori Nolla, Tracey Arwood, certified nurse midwife, and Megan Ray, nurse practitioner, at Bothwell OB/GYN Associates.
Keith Morrow, Bothwell Clinic Operations vice president, said Freeman's addition to the women's health clinic is part of a larger plan to take women's health care to the next level in order to meet demand and expand services.
"We have been working intentionally to grow our team of women's health professionals and services so more women choose Bothwell for care and to deliver their babies," he said. "Our long-term goal is to offer more flexible options and choices for our patients."
Freeman is excited to get to know her new community and start seeing patients.
"I am thrilled to continue my journey serving women as a midwife at Bothwell," she said. "I am passionate about ensuring that all women have access to high-quality, evidence-based care. My goal is to empower women by providing them with the respect, resources and education they deserve in order to make independent, fully-informed choices."
Bothwell OB/GYN Associates is located on the first floor of the Healing Arts Center at 3700 W. 10th Street in Sedalia. Hours are 8 am to 5 pm Monday through Friday. To learn more or to make an appointment to see Freeman, call 660-827-0015.