Shari Thomasson Receives Bothwell Regional Health Center DAISY Award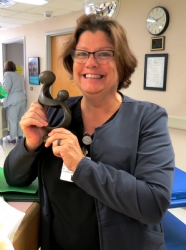 It hasn't taken Shari Thomasson long to make an impact at Bothwell Regional Health Center.
A registered nurse for the past 17 years, Thomasson began working in Bothwell's Orthopedics Department seven months ago. On Sept. 14, she became the most recent recipient of the hospital's DAISY Award, given quarterly to a nurse who best exemplifies competent and compassionate care.
Thomasson was nominated for the award by a patient who underwent an outpatient knee procedure but was admitted to the hospital with erratic breathing. "Upon arrival, I was greeted by the most friendly, caring and understanding nurse," the patient said of Thomasson. "She had a smile on her face and a demeanor of love for her patients. She took absolutely wonderful care of me, seeing to my every need."
Bothwell Chief Nursing Officer Rose McMullin read from the nomination at the DAISY Award presentation, which was held outside the Orthopedics Department on the third floor of the hospital. When McMullin told her of the award, Thomasson covered a gasp with her hand before breaking out in a broad smile. Later, she said she was honored to receive the award.
"This is probably the best recognition I have ever received," she said. "This award goes beyond clinical skills or education level. It's a personal recognition that speaks to the nurse as a human being."
The hospital presented Thomasson with a certificate commending her for being an "Extraordinary Nurse." She also received a DAISY Award pin and a sculpture called "A Healer's Touch," hand-carved by artists of the Shona Tribe in Africa. Also, a DAISY Award banner recognizing her will hang in the Orthopedics Department, and Thomasson's name will appear on the DAISY Foundation website.
For Thomasson, working in orthopedics is challenging but rewarding.
"We have a lot of admissions and discharges each day, so it's busy," she said. "But it's really great working with the Joint Program and seeing the patients each day improve their ambulation, strength and stamina. The Joint Program is an incredible opportunity for patients."
Before becoming a nurse, Thomasson was a medical assistant for 16 years. With a health-care career spanning more than three decades, it's not surprising that she can't imagine doing anything else.
"My mom was a nurse, and she was always my hero. I think I became a nurse to pay homage to my mom," she said. "But then I fell in love with the profession."
She said she was taught in nursing school to treat every patient as if they were a family member, a philosophy she has tried to exemplify throughout her career. "In today's busy world, it is easy to lose sight of why we as nurses are here," she added. "We are here to care for each patient as a person – not a monitor or an insurance claim, but a living and breathing person."
It is that kind of care that the DAISY Foundation sets out to recognize and celebrate. The DAISY Award for Extraordinary Nurses is aimed at honoring nurses not only for their skill but also their empathy and compassion toward patients. The award was started by the family of Patrick Barnes, who contracted and died from an auto-immune disease. The care Barnes's nurses provided inspired his family to create the award and the DAISY Foundation. DAISY stands for "diseases attacking the immune system."
Since its founding, the DAISY Award has grown into an international program in more than 2,800 health care facilities in all 50 states and in 17 countries.