Shasta Nardi Honored with DAISY Award at Bothwell Regional Health Center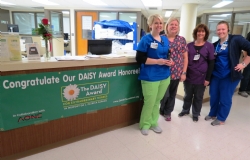 Shasta Nardi can't say for sure when she first decided she wanted to be a nurse, but it had to be at an early age. "I never really had any interest in doing anything else," she said. "I found a picture I drew when I was in the third grade of me in a nurse's dress, so I guess you can say I have always wanted to be a nurse."
After graduating high school from Smithton, Nardi went to Boonslick Technical Education Center in Boonville for its licensed practical nurse program. After graduating, she was accepted into the registered nurse program at State Fair Community College, where she graduated in December 2014.
Working at 3 Southwest at Bothwell Regional Health Center, Nardi's nursing skills have not gone unnoticed. During Nurses Week in May, she received the hospital's third DAISY Award for Extraordinary Nurses. She was nominated by the family of a patient in 3 Southwest.
"When entering the room, Shasta makes the patient feel they are the most important thing to her at that moment and that she has their best interest at heart in the care she gives," the nomination said. "She never makes the patient feel rushed even when she has many other patients and responsibilities."
Respectful, patient, a good listener and compassionate were some of the adjectives used by the patient's family in their nomination. "She goes out of her way to do special things like making coffee for the patient from the Keurig, knowing that is what the particular patient was used to at home," the nomination said.
Bothwell's interim Chief Operating Officer Rose McMullin cited the nomination at a DAISY Award presentation during a National Nurses Week Celebration at the hospital on May 10 and at a ceremony at 3 Southwest that was held in Nardi's honor on May 24. "Shasta epitomizes the core values all nurses need in this profession," McMullin said. "She's a wonderful, compassionate and caring nurse."
Nardi said she was shocked and honored to be selected for the award. "I have had lots of people congratulate me, and I honestly just look at them and say, 'I was just doing my job,'" she said. "But I do appreciate the recognition. It makes me feel great that I was able to help a patient be comfortable and make the best of their hospital stay."
The hospital presented Nardi with a certificate commending her for being an "Extraordinary Nurse." She also received a DAISY Award pin and a sculpture called "A Healer's Touch," hand-carved by artists of the Shona Tribe in Africa. Nardi's name will also appear on the DAISY Foundation website as an award recipient.
Nardi said that as a nurse she wants to treat patients and their families how she would want to be treated or how she would treat a member of her own family. Seeing patients get better under her care is one of the most rewarding things about nursing. Even a simple smile and a, "I'm so glad your back" from a patient when she enters the room makes all the hard work worthwhile.
It is that kind of care that the DAISY Foundation sets out to recognize and celebrate with its award. The DAISY Award is aimed at honoring nurses for their skill and compassionate care. The award was started by the family of Patrick Barnes, who contracted and died from an auto-immune disease. The care Barnes's nurses provided inspired his family to create the award and the DAISY Foundation. DAISY stands for "diseases attacking the immune system."
Since its genesis, the DAISY Award has grown into an international program in more than 2,800 healthcare facilities in all 50 states and in 17 countries.