Two new resident physicians joining Bothwell medical team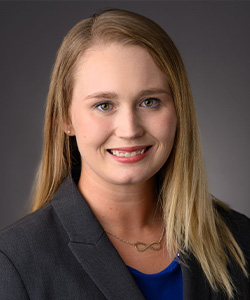 As a registered nurse who likes hands-on care, Dr. ShiAnne Farris believes she's in the right spot for the remainder of her physician training. Farris is one of two new resident physicians who will join the Bothwell-University of Missouri Rural Family Medicine Residency this summer.
"Sedalia feels a lot like home," Farris said. "I'm from a small community and grew up riding horses on a ranch."
Farris is from Alva, Oklahoma, a town of about 5,000 in the northwestern part of the state. She started working at Alva's only hospital when she was 16 and earned her Nursing degree from Northwestern Oklahoma State University in Alva. Farris got her medical degree from Oklahoma State University College of Osteopathic Medicine in Tulsa.
"After working as a nurse for 10 years, I decided to become a doctor because I've seen how hard it is to get physicians to small communities," Farris said. "In a place Sedalia's size, I can receive training that will help me be as prepared as possible for many types of medical issues, whether it's seeing someone in the emergency room, in the hospital or in a clinic for follow-up care."
Farris and her husband, Sean, have two children, Serina, 8, and Stetson, 3, and plan to live in Sedalia during her residency.
An opportunity to be close to family has landed Dr. Logan Stiens in Sedalia as a member of the Bothwell-University of Missouri Rural Family Medicine Residency's second class of residents.
Stiens was born in Columbia, Missouri, and moved to Iowa at a young age. For college, he attended Iowa State University and received a bachelor's degree in Biology and a master's degree in Biomedical Science. He completed medical school at the University of Iowa Carver College of Medicine.
"Coming from a rural area, I've always had a soft spot in my heart for helping those in rural communities get access to medical care," he said. "Bothwell allows me to help people in Sedalia while also being close to most of my extended family who still live in Missouri."
Stiens' goal during residency is to continue to grow into an independent, knowledgeable and caring physician.
"I want to become more familiar with the care of all age groups and become more comfortable managing their acute and chronic medical concerns," he said. "During my medical school training, I enjoyed the personal conversations and connections I developed in rural clinics. I've always had good, friendly experiences with patients from rural communities and I appreciate and value the opportunity to help them attain the medical care they need."
Stiens is engaged and in his free time enjoys bicycling, outdoor grilling, working with wood, and cheering on his Iowa State Cyclones.