Understanding the new COVID-19 vaccine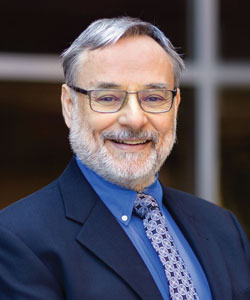 In an effort to learn more about the new COVID-19 vaccinations from Pfizer-BioNTech and Moderna, we sat down with Dr. Philip Fracica, Bothwell Regional Health Center's chief medical officer, to get answers for frequently asked questions regarding the new vaccine.
Fracica has been Bothwell's chief medical officer since 2015. Prior to joining Bothwell, Dr. Phil was an assistant professor of medicine at Duke University Medical Center in Raleigh-Durham, North Carolina, for 13 years. While at Duke, he practiced critical care and pulmonary medicine, conducted acute lung injury research, and taught pulmonary critical care.
What is different about this vaccine?
The new monovalent vaccine solely targets the XBB.1.5 Omicron subvariant following recommendations from an FDA advisory panel. The previous bivalent shots are no longer authorized for use in the United States.
Who should get an updated COVID vaccine?
A COVID-19 vaccination is recommended for anyone ages six months and older in the United States for the prevention of COVID-19.
Should I get the latest vaccine even if I recently had COVID?
People with a known current coronavirus infection should delay any COVID-19 vaccination at least until recovery from the illness (if symptoms were present) and have met the criteria of discontinuing isolation.
People who recently had a coronavirus infection may consider delaying a COVID-19 vaccine dose by three months from symptom onset or, for asymptomatic infections, a positive test. Studies have shown that increased time between infection and vaccination might result in an improved immune response to vaccination. Also, a low risk of reinfection has been observed in the weeks to months following infection. Nonetheless, individuals should consider factors such as risk of a severe case of COVID-19 or characteristics of the predominant coronavirus strain when determining whether or not to delay getting a COVID-19 vaccination after infection.
How quickly will protection kick in?
Protection from the initial vaccination or "booster" dose kicks in a couple of weeks after vaccination. There is research that indicates that protection can continue to increase for several months before it begins to gradually subside.
Can I get the COVID vaccine alongside flu and RSV shots?
Yes. There is no need to wait or separate the vaccinations.
Where can I get the vaccine?
The adult vaccine is available at all Bothwell primary care offices, which includes Family Health, Family Medicine Associates, Eldenburg Family Practice, Cole Camp Clinic, Lincoln Family Medicine and Truman Lake clinic in Warsaw, and at Walgreens and CVS pharmacies. Due to federal grant funding, it is likely that there will be a lower out-of-pocket cost to patients who are vaccinated at pharmacies rather than at primary care clinics.
How much will the updated COVID vaccine cost?
This depends on where you go and whether or not you have insurance. Through the federal Health and Human Services Bridge Access Program administered through the CDC, free COVID-19 vaccines are available at area Walgreens and CVS pharmacies for adults who are uninsured or underinsured.
The federal government has not made the new vaccine available for free to Bothwell so insured patients will be responsible for their portion of the costs depending on their insurance coverage.