Wear Red for Women donates AEDs to Green Ridge organizations
Wear Red for Women, a Bothwell Foundation committee, recently gave an automated external defibrillator (AED) to Green Ridge Recreation Center and Green Ridge Fire Department. An AED is a small, lightweight device that allows individuals and first responders to treat sudden cardiac arrest. The machine automatically analyzes the heart rhythm and when appropriate, it delivers an electrical shock to the heart to restore its normal rhythm.
According to research, the majority of sudden heart attack victims have good chances of survival under certain common conditions, including that the event is witnessed, the collapse occurs in a large public place, an AED is handy, and bystanders use CPR and the AED.
Funds to purchase the device were raised during the 2023 Wear Red for Women luncheon and auction. The committee's goal is to have AEDs in every place people work, learn, play or pray in Sedalia and Pettis County. Since the inception of the luncheon event in 2020, 72 AEDs have been placed in or committed to various locations. The 2024 Wear Red for Women event is Feb. 23, 2024, and tickets will be available in January.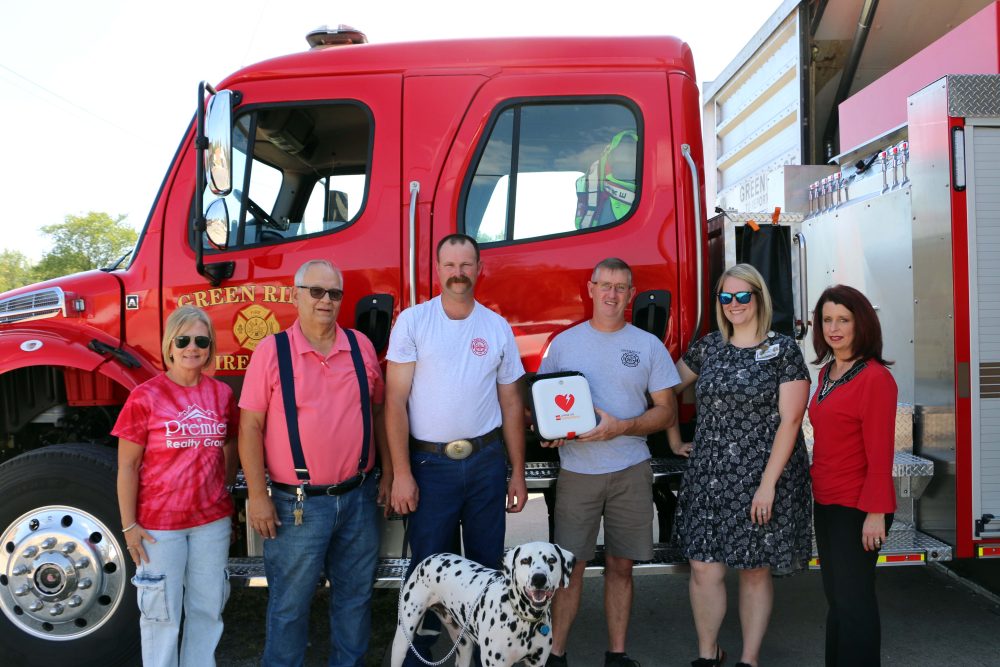 Green Ridge Fire Department – From left, Trish Henson, committee member; Allan Rohrbach, Tony Turner, Barry White; Lauren Thiel-Payne, Bothwell Foundation executive director; and Lisa Irwin, committee member
Green Ridge Rec Center – Front row, from left, Jackson Davenport and Layton Tyler; middle row, from left, Trish Henson, committee member; Kari Tyler, Lauren Thiel-Payne, Bothwell Foundation executive director; and Robin Balke, Laura Weisenburger and Lisa Irwin, committee members; back row, from left, Susan Mergen, committee member; Cameron Netz, Jake Meyers and Chris Davenport