Cardiology Physician Opportunity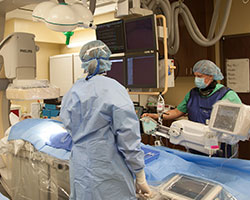 Bothwell Regional Health Center, located an easy distance from Kansas City in Sedalia, Missouri is offering an outstanding cardiology opportunity in a respected practice.
Details Include:
Step into an established practice with another cardiologist
Office located in a new medical office building which houses state-of-the-art imaging center and lab
Echo, EKG and ultrasound in the office
Over 30 specialties on staff offer support
Bothwell's Canon Center houses cancer and cardiology care including the cardiac catheterization lab; perform diagnostic cath procedures and pacemakers
Nuclear Medicine with nuclear stress tests, EKG, Echocardiograms, Transesophageal echograms performed at the hospital
Single specialty group; employment with great income potential
Warsaw is located between two of Missouri's largest lakes - the Lake of the Ozarks and the Truman Reservoir. This lake community of about 2,100 nearly doubles with fishermen, campers and lake enthusiasts during the summer months but maintains its small-town charm year-round. With numerous outdoor activities, local festivals and community events, you will find your optimal work-life balance in our family-friendly community! Learn more about Warsaw at welcometowarsaw.com.
To apply or for more information on this opportunity, please contact Beth Everts at beverts@brhc.org or 660.829.6652.