Ear, Nose and Throat Physician Opportunity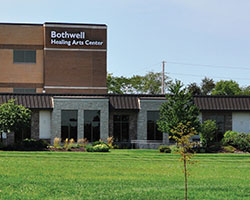 Bothwell Regional Health Center invites you to consider an otolaryngology practice opportunity in Sedalia, Missouri. Don't let your skills get lost in the crowd.
Our physicians are as independent as our hospital and we have a growing market offering patients of all ages and conditions with no other ENT within a two county area. Enjoy a practice that offers the freedom to use the skills you have developed in a community that will appreciate you!
Details Include:
Step into an established ENT practice with an APP and hearing instrument specialist
Beautiful office located in a new Healing Arts building on-site imaging center and lab; office features multiple exam and procedure rooms, physician office, beautiful views and state-of-the-art equipment with recent expansion
Surgical block time available with five OR's, BC Anesthesiologists and CRNA's (quick turn-around time)
Enjoy a variety of patients from our pediatric, adult and geriatric patient base with head and neck conditions including allergy
Over 25 specialties on staff offer support for your practice
Bothwell is a 108-bed facility offering hospital employment with a guaranteed base salary and production bonus that can easily support a practice income in the 75 percent
Ask about student loan payback
Ask about sign-on bonus
Ask about training stipend
Find your optimal work-life balance in our family-friendly community. With a low cost of living, beautiful neighborhoods and a community where you can enjoy the best of both worlds, Sedalia is a great place to live and work. Learn more at the Community Information link below.
To apply or for more information on this opportunity, please contact Beth Everts, Physician Recruitment director, at beverts@brhc.org or 660.829.6652.