Neurology Physician Opportunity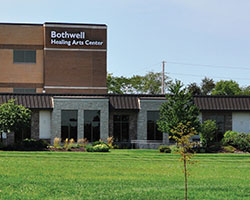 Bothwell Regional Health Center invites you to consider a neurology opportunity in Sedalia, Missouri, located under an hour from the Kansas City area.
Details Include:
Step into a large patient base with a supportive medical staff
Out-patient clinic focuses on headache, stroke, epilepsy, tumors, dementia, neuromuscular conditions and movement disorders
Inpatient consults only plus EEG and EMG/NCV reads and the ability to view from home plus fully trained staff in an established neurodiagnostics program
Hospitalist team covers in-patients for BRHC clinics with tele-neurology support after hours
Beautiful office space will be located in the new, state-of-the-art Healing Arts Center, located in a high-traffic area with lab and diagnostic imaging support on-site
State-of-the-art imaging offers MRI, CT, x-ray, ultrasound, nuclear medicine and more
Our full-time medical staff specialists include cardiologists and oncologists as well as an ENT, pulmonologist, and more
Hospital employment offered with a very competitive salary, bonus and benefits package
Ask about student loan payback, signing bonus/stipend available
Find your optimal work-life balance in our family-friendly community. With a low cost of living, beautiful neighborhoods and a community where you can enjoy the best of both worlds, Sedalia is a great place to live and work. Learn more at the Community Information link below.
To apply or for more information on this opportunity, please contact Beth Everts, Physician Recruitment director, at beverts@brhc.org or 660.829.6652.