Orthopedic Surgery Physician Opportunity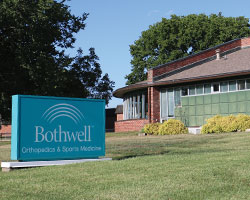 Bothwell Regional Health Center invites you to consider an excellent orthopedic surgery opportunity located in Sedalia, Missouri, just one hour between Kansas City and Columbia, home of the University of Missouri.
Details Include:
Step into an established practice with three respected, board-certified orthopedic surgeons and a PA in a spacious office located near the hospital
Enjoy a variety of general orthopedic cases with the opportunity to expand service lines and subspecialty services; total joints can be a focus of the practice
Bothwell provides athletic trainers at Smith-Cotton, Warsaw R-IX and Cole Camp R-1 high schools; University of Central Missouri athletic trainers rotate through this practice
Total joint service boasts a successful joint camp program at Bothwell Center for Joint Replacement, modeled after Marshall Steele
Efficient five-suite Surgery Department with block scheduling is staffed with BC Anesthesiologists and CRNAs
Full-scale Physical and Occupational Therapy Department on-site and at seven locations in the Bothwell service area
Free-standing Wound Healing Center with hyperbaric chamber on campus
State-of-the-art imaging available at multiple locations locally; MRI, CT, x-ray, ultrasound, nuclear medicine and more
Our Susan O'Brien Fischer Cancer Center provides comprehensive oncology and hematology care in a beautiful facility on campus with infusion center, new linear accelerator and cancer conference room
In-patient support is covered by the Bothwell hospitalist team
Teach medical students in the University of Missouri Longitudinal Training (LINC) program at Bothwell
Hospital employment offered with a very competitive salary, bonus and benefits package
Ask about student loan payback, signing bonus/stipend available
Find your optimal work-life balance in our family-friendly community. With a low cost of living, beautiful neighborhoods and a community where you can enjoy the best of both worlds, Sedalia is a great place to live and work. Learn more at the Community Information link below.
To apply or for more information on this opportunity, please contact Beth Everts, Physician Recruitment director, at beverts@brhc.org or 660.829.6652.