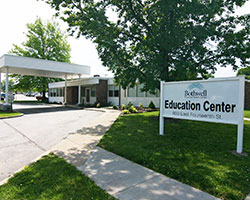 Bothwell Education Center
Bothwell Education Center is located south of Bothwell hospital and is the learning center for a variety of community classes including childbirth education, community CPR/AED/First Aid, and safe sitter.
Services Offered
Caring for you in every stage of your life

Helping your baby get off to the best start
Providers At This Location
Provider information for this location is not currently available. Please contact us for assistance.
Location Details
Bothwell Education Center
600 E. 14th St.
Sedalia, MO 65301
Hours:
Monday:

8:00 am - 5:00 pm

Tuesday:

8:00 am - 5:00 pm

Wednesday:

8:00 am - 5:00 pm

Thursday:

8:00 am - 5:00 pm

Friday:

8:00 am - 5:00 pm

Saturday:

Closed

Sunday:

Closed