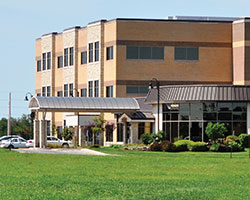 Bothwell Diagnostic Center
The Bothwell Diagnostic Center is a free-standing clinic on Sedalia's west side that opened in 2005 to make lab and diagnostic services available in a non-hospital setting. With experienced staff and state-of-the-art medical imaging and laboratory services, results are accurate and sent to your provider faster.
While the center is open from 8 am to 5 pm Monday through Friday, Lab hours are 7:30 am to 4:45 pm.
Services Offered
State-of-the-art scanning technology

The best imaging for your breast health

Diagnosing nervous system disorders

Advanced technology for accurate diagnoses

Comprehensive and convenient lab services
Location Details
Bothwell Diagnostic Center
990 S. Winchester Dr.
Sedalia , MO 65301
Hours:
Monday:

8:00 am - 5:00 pm

Tuesday:

8:00 am - 5:00 pm

Wednesday:

8:00 am - 5:00 pm

Thursday:

8:00 am - 5:00 pm

Friday:

8:00 am - 5:00 pm

Saturday:

Closed

Sunday:

Closed