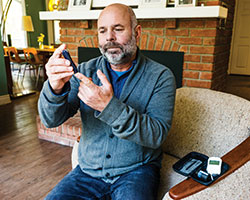 Bothwell Regional Health Center offers a diabetes education program to help you develop the skills and knowledge you need to maintain a healthy lifestyle and reduce the risk of long-term complications from diabetes.
Services Offered
Helping you maintain a healthy lifestyle
Providers At This Location
Provider information for this location is not currently available. Please contact us for assistance.
Location Details
Diabetes Education
601 E. 14th St.
Sedalia, MO 65301
Located on the south side of the ground floor of Bothwell hospital
Hours:
Monday:

8:30 am - 5:00 pm

Tuesday:

8:00 am - 5:00 pm

Wednesday:

8:30 am - 5:00 pm

Thursday:

8:30 am - 5:00 pm

Friday:

8:30 am - 5:00 pm

Saturday:

Closed

Sunday:

Closed