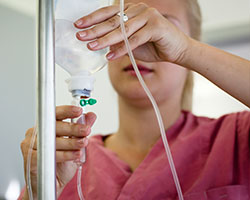 Infusion & Procedure Center
The Infusion & Procedure Center is located in the 2 North unit on the hospital's second floor. Our dedicated team of nurses is here to treat you locally when you need IV therapy, injectable medications or outpatient procedures.
Services Offered
Close-to-home outpatient IV therapy and procedures
Providers At This Location
Provider information for this location is not currently available. Please contact us for assistance.
Location Details
Infusion & Procedure Center
601 E. 14th St.
Sedalia, MO 65301
Located on the north side of the second floor of Bothwell hospital
Hours:
Monday:

7:00 am - 7:00 pm

Tuesday:

7:00 am - 7:00 pm

Wednesday:

7:00 am - 7:00 pm

Thursday:

7:00 am - 7:00 pm

Friday:

7:00 am - 7:00 pm

Saturday:

Closed

Sunday:

Closed
The Infusions Unit is open Saturdays and Sundays by appointment only. Fax number: 660.829.6679