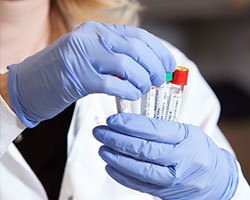 Bothwell Regional Health Center offers outpatient lab services at our technologically advanced facility and provides the best diagnostic methodology available.
The lab is accredited by the College of American Pathologists, the Department of Health and Human Services – Health Care Financing Administration and the Food and Drug Administration. Our personnel include board certified medical technologists and technicians.
Hospital lab hours are 8 am to 4 pm Monday through Friday and 8 am to Noon Saturday.
Services Offered
Advanced technology for accurate diagnoses

Comprehensive and convenient lab services

Finding answers for your blood disorders
Location Details
Laboratory
601 E, 14th St.
Sedalia, MO 65301
Located on the north side of the first floor of Bothwell hospital
Hours:
Monday:

8:00 am - 4:00 pm

Tuesday:

8:00 am - 4:00 pm

Wednesday:

8:00 am - 4:00 pm

Thursday:

8:00 am - 4:00 pm

Friday:

8:00 am - 4:00 pm

Saturday:

8:00 am - 12:00 pm

Sunday:

Closed