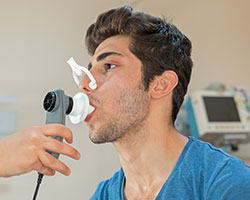 The Respiratory Care Unit is located on the second floor of the hospital. The unit provides therapy and treatment for breathing disorders as well as pulmonary function testing.
Services Offered
Keeping you in good physical and mental health

Treatments to help you breathe easier
Providers At This Location
Provider information for this location is not currently available. Please contact us for assistance.
Location Details
Respiratory Care Unit
E. 14th St.
Sedalia , MO 65301
Located on the south side of the second floor of Bothwell hospital