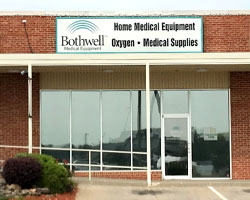 Bothwell Medical Equipment
Bothwell Medical Equipment (sometimes known as DME) offers medical equipment and supplies needed to make life more comfortable. Our trained technicians work with you to deliver and set up equipment and supplies in your home, as directed by a physician. A respiratory therapist or highly skilled technician can also provide equipment instruction and orientation.
We offer a full line of hospital equipment and health aids for sale or rent including:
Oxygen equipment and supplies
Respiratory equipment including CPAP, BIPAP and nebulizers
Walkers and wheelchairs
Canes and crutches
Bath safety products
A wide variety of health care supplies
Additional services to help make life easier include automated calls to CPAP customers and a patient app.
Automated calls make reordering sleep therapy supplies a snap. When you're eligible to reorder, you'll receive a call and all you have to do is answer a few easy questions to get your supplies quickly on the way to you.
Our patient app makes it easy to communicate with staff, upload insurance information, update contact information, order supplies and make payments. If you shop at Bothwell Medical Equipment, download Patient Hub by Brightree in your app store and call us for the required registration code to create an account and get started!
Services Offered
Treatments to help you breathe easier
Providers At This Location
Provider information for this location is not currently available. Please contact us for assistance.
Location Details
Bothwell Medical Equipment
3143 W. Broadway Blvd.
Sedalia, MO 65301
Hours:
Monday:

8:00 am - 5:00 pm

Tuesday:

8:00 am - 5:00 pm

Wednesday:

8:00 am - 5:00 pm

Thursday:

8:00 am - 5:00 pm

Friday:

8:00 am - 5:00 pm

Saturday:

Closed

Sunday:

Closed
Medical equipment purchased may be covered by Medicare and Medicaid and our customer service representatives will file all necessary information with Medicare, Medicaid or a private insurance. Private pay is also accepted.