Be one of the first to reserve your spot along Heart Warrior Way. 
The 2022 Lub Dub Run will be more than just another 5K/10K – it will provide an opportunity for people to remember loved ones lost to heart disease, and support those who are still with us. Heart Warrior Way will do just that – honor and support. With your donation, you can honor or memorialize a family member, friend, coworker or anyone that you know who has suffered from heart disease.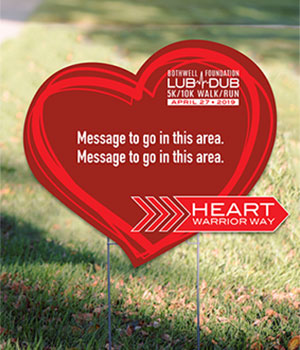 Choose Your Sign Option
$25 - Heart Warrior Way
Have your name or family's name displayed on your sign - "John Smith is a Heart Warrior", "The Smith Family are Heart Warriors." Place a sign in your front yard to show your neighbors you care.
$50 - Heart Warrior Way Personalized
Your sign will be personalized with your own message
$100 - Heart Warrior Champions
For businesses and organizations - these signs can be placed outside your business and will give individuals the opportunity to participate in a Heart Warrior Champion selfie scavenger hunt. Have your business highlighted as they post their selfies on social media.
Heart Warrior Way signs will be delivered for you to place in your yard or in front of your business.
All proceeds go to the Camye Callis Gaspard Memorial Heart Fund. This fund was created by the Jim Callis and David Gaspard families in memory of their lovely wife, mother, daughter and sister who died too soon from undiagnosed heart disease.
For questions about events, how to make a donation or the work of the Bothwell Regional Health Center Foundation, please contact the Foundation.