The Bothwell Foundation was founded in September 2005. The 2005 Founders Circle is a supportive group of individuals who commit to making a $20.05 or more gift each month to advance health care here at home.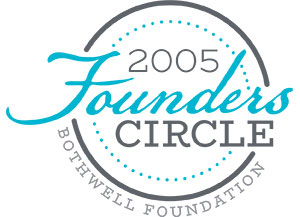 Almost every month various departments throughout the hospital request funds from the Foundation to replace outdated equipment with new state-of-the-art equipment that will put our hospital at the forefront of medical technology and enrich patient care. Requests are also presented to provide funding for continuing education for staff so that our healthcare providers can be kept up-to-date on the latest medical breakthroughs. This will allow our nurses and other clinical staff to offer the safest and best possible care for you and your loved ones.
By becoming a member of the 2005 Founders Circle, you will have a direct impact on the health and wellness of our community. Your donations will help provide on-going support to make these grants to the hospital possible and make a difference in our community.
In order to be a 2005 Founders Circle member, monthly donations must be at least $20.05, but more is fine, too.
To join, simply complete the online donation form - you can even set it up to auto-deduct from your account each month so you don't have to worry about missing a month!
Recognition as 2005 Founders Circle Member in Bothwell Foundation's newsletter and on our website
Personal invitations to Bothwell Foundation events
Year-end charitable tax receipt
Annual "Members Only" private reception/tour with Bothwell Foundation and Bothwell personnel to celebrate the difference your donations made