The DAISY (Diseases Attacking the Immune SYstem) Award is an international recognition program that honors and celebrates the skillful, compassionate care nurses provide every day. The DAISY Foundation was established by the family of J. Patrick Barnes after he died from complications of the auto-immune disease ITP in 1999. During his hospitalization, they deeply appreciated the care and compassion shown to Patrick and his entire family. When he died, they felt compelled to say "thank you" to nurses in a very public way.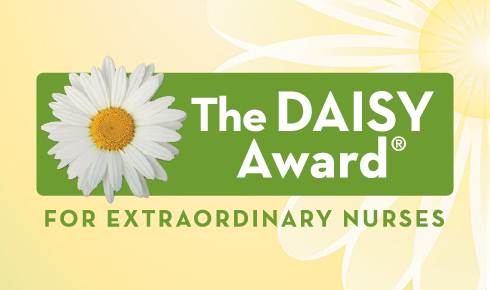 Please say thank you by sharing your story of how a nurse made a difference you will never forget!
By nominating your nurse, they will then be eligible to be named the DAISY Award Honoree. Each DAISY Award Honoree will be recognized at a public ceremony in her/his unit and will receive: a beautiful certificate, a DAISY Award pin and a hand-carved stone sculpture entitled A Healer's Touch. Additionally, everyone in the unit will celebrate with cinnamon rolls – a favorite of Patrick's during his illness. The Barnes Family asks that whenever and wherever nurses smell that wonderful cinnamon aroma, they stop for a moment and think about how special they are.
Printable nominations are available online and may be mailed to:
Bothwell Regional Health Center
DAISY Award Program
601 E 14th Street
Sedalia, MO 65301
Patient Testimonial Examples
Example One
"My wife and I had a recent stay at Bothwell. Recently she gave birth to our first child. The reason for my email is to let you know how happy were with the treatment that we received. We were happy with all the doctors and nurses that took care of us, but there was one RN that stood out. She went over and above to make sure my wife was comfortable. We caught [RN name] on the first day of her 3-day shift and she worked each day that we were there. She truly sets the benchmark for patient care! She has such a gentle way about her yet her nursing skills are remarkable and she has such a professional demeanor. We had no doubt we were in good hands. Because of the quality of care we received from [RN name] I will have no problem recommending to any of my friends to come to Bothwell for the delivery of their children."
Example Two
"Just a quick note to express my complete gratitude in the care and support I was given after I had surgery. [RN name], you represent what a true RN should be. You made my stay smooth and as comfortable as it could be after surgery. You never seemed like I was a bother no matter how many times I pressed the call button. I appreciate all you did to take care of me, and I hope that when I complete nursing school and become and RN I'll achieve the level of care and nurturing that you exemplify. Thank you so much!"