Annual Lub Dub to honor long-time race director
Registration now open for April 27 race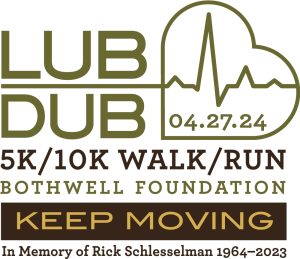 The Bothwell Foundation's annual Lub Dub 5K/10K Walk/Run will have a special focus in 2024 – honoring Rick Schlesselman, long-time foundation board member and race director who unexpectedly passed away in August.
Schlesselman was a member of the foundation board since its inception in 2005 and was the driving force behind the annual walk/run event that draws hundreds of people and raises thousands of dollars that support heart health. Lauren Thiel-Payne, foundation executive director, said Schlesselman's leadership, perspective, common sense approach and guidance are already missed but the race will go on in his memory.
"It is devastating to know Rick will not be with us, yet we know he would be cheering everyone on to the finish line," she said. "I only hope we can honor his wonderful life with the continuation of this event for years to come."
Registration opened on Nov. 9, which is Schlesselman's birthday and can be done online at brhc.org/lubdub. People who register in November can receive $5 off their registration price with the code "Run4Rick." Each person who registers will receive a 5K or 10K t-shirt, a "swag bag" with items from event sponsors, access to timing to track activity and results, a finishers medal and a chance to win age-specific awards.
"Rick's favorite and best advice to others was to 'keep moving,' Thiel-Payne said. "It doesn't matter if someone is running Lub Dub for the 15th time or the first time or if they are 8 or 80, he believed the way to better health was to just get out there and move."
Lub Dub, named after the sound of a healthy heart, is designed to raise awareness and funds to fight heart disease. All proceeds from the event benefit the Camye Callis Gaspard Memorial Heart Fund, which provides cardiac-related equipment and items to Bothwell Regional Health Center and to communities in Pettis and Benton counties.
Businesses interested in sponsoring this year's event can contact Thiel-Payne at lthiel@brhc.org or 660.829.7786.