Bothwell Foundation raising funds and awareness for Gene Loveall Cancer Services Fund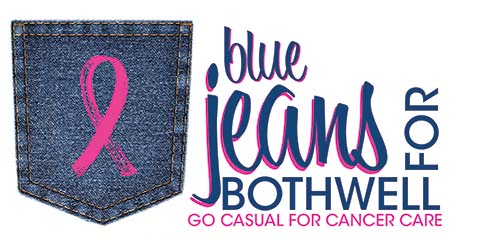 The Bothwell Foundation is continuing support for breast cancer awareness with its annual Pinktober campaign in October by raising funds in a Blue Jeans for Bothwell, Go Casual for Cancer Care effort and providing free mammograms.
Blue Jeans for Bothwell, Go Casual for Cancer Care encourages employees at area businesses and community members to wear jeans and pink on Wednesday, Oct. 27 and donate $5 to the Bothwell Foundation's Gene Loveall Cancer Services Fund.
Businesses that want to participate in Blue Jeans for Bothwell may register online by Oct. 22 to be recognized on the Bothwell Foundation Facebook page. Registration is not required to participate. Businesses should send collected employee donations by Oct. 29 to the Bothwell Foundation at 601 E. 14th St., Sedalia, MO 65301. Individuals not associated with a participating company may donate $5 online at brhc.org/foundation-giving/donate. To designate the donation, select the Gene Lovell Cancer Services Fund in the "My donation is for" drop-down menu.
Lauren Thiel-Payne, Bothwell Foundation executive director, said this year's specially designed Pinktober T-shirts are available for purchase online until Oct. 8 and at all Central Bank branches in Sedalia beginning Oct. 7 while supplies last. She encourages everyone who participates to share their photos wearing jeans and pink on Facebook with #bluejeansforBothwell.
"We hope everyone jumps on board and wears blue jeans and pink on Oct. 27," she said. "It's a fun and easy way for lots of people to financially support cancer services. Almost everyone knows someone who has been impacted by cancer. All the funds raised stay in the community to help people undergoing treatment for not only breast cancer, but all cancers."
Along with raising money for cancer services, the foundation will again offer free mammograms from 8 am to noon Friday, Oct. 8 and 29 at Bothwell Diagnostic Center, 990 Winchester Ave. in Sedalia. Screening mammograms are for women 40 years and older, and appointments are required. To make an appointment, call 660.829.8888 and mention "Free Mammo Day."
"Some women may have delayed getting a mammogram due to the pandemic or for other reasons," Thiel-Payne said. "These free screenings are a way to encourage women to stay on track with their breast health. They do not need an order from their physician to get one, they just need to make an appointment."
Pinktober is a community-wide awareness campaign that helps residents served by Bothwell learn more about breast cancer prevention and treatment. Proceeds support the foundation's Gene Loveall Cancer Services Fund, which provides resources for improving cancer treatment services in Pettis and Benton counties including gas cards for patients who may travel for their treatments, cases of the nutritional supplement Ensure, funds for prescriptions or any other needs patients may have. Funding is also used to provide free mammograms.
For more information, contact the Bothwell Foundation at lthiel@brhc.org or 660.829.7786.