Cline receives DAISY Award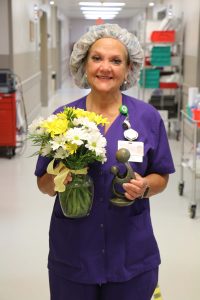 Bothwell Regional Health Center recently presented its latest DAISY Award for Extraordinary Nurses to Donna Cline.
The DAISY Award is for patients and their families to nominate nurses who give outstanding, compassionate and skillful care. Cline has been a Registered Nurse (RN) for 34 years and currently works in Same Day Surgery at Bothwell. She was nominated by Margaret Benson, a fellow RN.
"I recently had a major surgery at the hospital," Benson said. "I knew the nurses and staff in Same Day Surgery were great, and I had complete trust and faith in my doctor. However, when the time came for me to say goodbye to my husband, I realized there was no turning back and fear set in. Donna was my nurse that morning. We had never met in person, but we do know each other professionally. I have frequently given Donna reports over the phone when my medical patients go to surgery. She could tell I was scared and nervous but was patient and kind to me. The conversation helped keep my mind from focusing on my fears."
Growing up, Cline never pictured herself being a nurse and initially studied Music Therapy in college. It wasn't until she worked at a nursing home one summer that she fell in love with the opportunity to care for patients. Cline said she was drawn to the operating room because she can give one patient her undivided attention as she talks to them, understands their fears and does her best to put them at ease.
"I was presented this award for doing what I do every day," Cline said. "When Margaret was here for surgery, I remember talking to her just like I do with all of my patients. I did my normal routines, grabbed her hand and told her I would be there the whole time and take excellent care of her."
Going into surgery, Benson could not stop considering the worst case scenario and fear was at the forefront of her mind.
"The last thing I remember was Donna holding my hand," she said. "And I remember squeezing her hand tightly in return. I felt like I could squeeze all my fears away while she held my hand. This was such a small act of kindness, and it meant the world to me! I felt calm and safe because of her. It was the very last thing I remember, and I will never forget that."
Megan Elwood, Bothwell Nursing Education RN, presented Cline with a certificate congratulating her for being an "Extraordinary Nurse." She also received a box of cinnamon rolls, a daisy bouquet, a DAISY Award pin and a sculpture called "A Healer's Touch," hand-carved by artists of the Shona Tribe in Africa. A DAISY Award banner recognizing her will hang in Cline's unit and her name will appear on the DAISY Foundation website.
"Donna is so deserving of the DAISY Award and demonstrates each day what it looks like to provide compassionate care to patients," Elwood said. "It is truly an honor for her to be nominated by a fellow nurse who knows the stress and intensity that comes with health care."
After working at Bothwell for 30 years, Cline was humbled to receive the DAISY Award and was shocked during the award presentation.
"The DAISY Award means the world to me," Cline said. "It literally took my breath away when I was announced as the recipient. I love my job because, for the most part, I have just one patient at a time to whom I can provide comfort and compassion in hopes of easing their mind."
The DAISY Award for Extraordinary Nurses was started in 1999 in Glen Ellen, California, by members of the family of Patrick Barnes, who died at the age of 33 of complications from an autoimmune disease. The care his nurses provided was the inspiration for the DAISY (Diseases Attacking the Immune System) Award.
An international award, the DAISY is awarded in more than 2,800 health care facilities in all 50 states and 17 countries. Bothwell Regional Health Center began recognizing its nurses with the DAISY Award in 2018. Jessica Wheeler, Shari Thomasson, Shasta Nardi, Courtney Rumans, Sarah Plante, Connie Roll, Ronda McMullin, Sarah Fredrickson, Sherri Egbert, Leslie Shapley, Seth Stotts, Stacey Nassar and Helen Fisher are previous recipients.
To learn more or to submit a nomination, visit brhc.org/daisy.