Lub Dub Returns as Virtual Event, Registration Now Open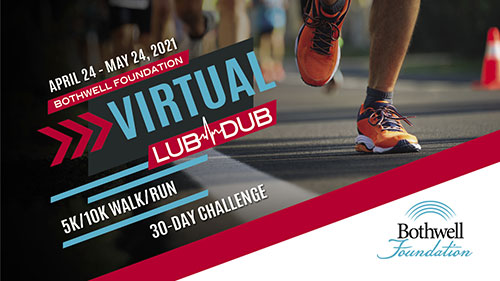 After being canceled last year due to COVID-19, the Bothwell Foundation's Lub Dub walk/run event is returning as a virtual event in 2021. This year's event includes options for a 5K, 10K and a new 30-day challenge beginning Saturday, April 24.
To participate in the virtual event, registrants may select to walk or run a 5K or 10K any day between April 24 and May 24 or log cumulative miles in a 30-day challenge during that time period. People may also choose the "all-in challenge" and compete in all three events.
Each person who registers will receive a 5K, 10K or 30-day challenge t-shirt, a "swag bag" with items from event sponsors, access to UltraMax and RaceJoy to track activity and results and a finishers award. Upon registration, T-shirts, registration packets and finishers awards will be mailed directly to each participant.
Sponsors for this year's event include McCarthy Toyota, LammTech, Tyson, Central Bank of Sedalia, Starline, Katy Trail Community Health and Callis.
To register for the virtual Lub Dub, visit the Lub Dub event page or contact the Bothwell Foundation office at LThiel@brh.org or 660.829.7786.
While the Bothwell Foundation had hoped to host an in-person event this year, the health and safety of Lub Dub participants and volunteers is the top priority. The foundation board encourages and challenges everyone to get out and get moving. The virtual Lub Dub event can be done at any location including on the road, the trail, the treadmill, at the gym, the track or even at another race.
Lub Dub, named after the sound of a healthy heart, is designed to raise awareness and funds to fight heart disease. All proceeds from the virtual Lub Dub event benefit the Camye Callis Gaspard Memorial Heart Fund, which provides cardiac-related equipment and items to Bothwell Regional Health Center and to communities in Pettis and Benton counties.